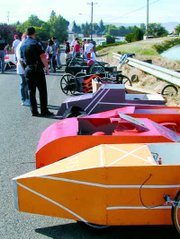 GRANDVIEW - Race fans lined the course for the second annual Grandview Soapbox Derby held this past Saturday on Euclid Hill.
This year the race, which attracted a field of more than 15 drivers, saw awards given for the Celebrity 500, Corporate and adult divisions, as well as three division of youth races.
Leading the list of winners was defending downhill champion Grandview Mayor Pro Tem Bill Flory, who was the oldest competitor at Saturday's event.
Flory, who regularly wins the Mayor's Race in the Sunnyside Fourth of July Soapbox Derby, beat Sunnyside Mayor Pro Tem Mike Farmer in the best of three races to claim the Celebrity 500 Championship title.
Taking home the Corporate championship title was Hollmeyer Farms with Jack Hollmeyer as the winning driver.
Hollmeyer's wife, Sheri Hollmeyer, went on to beat him in the adult division for a year's worth of bragging rights. Mrs. Hollmeyer also took home a check for $300. Her husband, who received a trophy in the corporate division, was the second place finisher in the adult division, receiving a $200 prize.
Michele Williams claimed third place honors, which earned her the $100 prize in the adult division.
Beside the fun the adults had driving their homemade soapbox cars down the speedy Euclid course, a number of young drivers also claimed soapbox driving kudos.
Based on pre-race times, the fastest youth green division car was driven by Kendra Hollmeyer of Grandview, who was presented with a first place $200 U.S. savings bond and a medal. Following her into the winner's circle was Kennedy Sarmiento of Grandview, who finished in second place, and Brianna Biggs of Grandview, who came in third place. Sarmiento took home a $100 U.S. savings bond and medal, while Biggs received a $50 U.S. savings bond and a medal for her skills.
In the blue division, Vanessa Dorsey of Grandview was the speediest driver, claiming first place honors, while Rosa Garza of Sunnyside was the blue division's second place winner. Thomas Van Dyke of Grandview was the third place winner in the division.
Youth red division winners were Isaiah Lyczewski of Grandview in first place with Marissa Boob of Sunnyside in second place and Shyanne Trujillo of Grandview in third. The top three winners in the blue and red divisions earned the same prizes as the blue division winners.
. Julia Hart can be contacted at
(509) 837-4500, or you can e-mail her at jhart@eaglenewspapers.com
Julia Hart/Daily Sun News
Grandview City Councilman Bill Flory (L) gives Sunnyside City Councilman Mike Farmer (R) a few pre-race driving tips before going on to win the Celebrity 500 race in Saturday's Grandview Soapbox Derby held in Grandview on Euclid Hill.