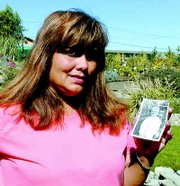 "Have you heard anything yet?" That's the question Billie Warwick of Sunnyside hears every morning from her 90-year-old father-in-law, Art Warwick.
The question is prompted by Hurricane Katrina, which devastated much of the Gulf Coast, including Biloxi, Miss., which Billie estimates is home to about 70 of her relatives.
The only word she has heard so far came last Tuesday in an e-mail from her Uncle Alton McVeay, 64, of Biloxi.
"You see the pictures but this really brought it home," she said of the message. "It's like a third-world country over there."
The e-mail follows in its entirety:
Hi Darling,
Thanks so much for your love and concern. Things are horrible here right now, but God is good, and we will be a better people for what we are going through now. Most of the family have lost their homes, automobiles, and we have nothing but the clothes on our backs----BUT WE WILL PREVAIL!!!
Keep us in your prayers as we struggle to overcome this adversity. Pray that we will find the rest of the family--we can't get in touch or find them, but we keep praying that all is well.
Helicopters dropped us off some food and ready-to-eat meals, along with fresh water and some ice. And not a minute too soon. I really thought we were going to starve and thirst to death after we had survived the most devastating time in our lives--many had to get in attics when the water rose above the first level.
Homes are leveled, many are dead. All we can do is pray and have the faith that tomorrow will bring a better day.
For those that do have telephone service, we cannot call out of our area. I hope you get this message. I don't know how long the electricity will be on.
I will try to call as soon as possible. We do not know what is going on since they will not allow the cable TV or broadcast. They must think that we will be better off not knowing what is going on, than to know and worry.
Pray for us.
I love you,
Uncle A
There are estimates that as many as 1,000 or more perished in Katrina's wake.
Warwick has no idea if any of her family is among them. Some of her family in the Biloxi area are brother, sisters and a step-mother.
"I was there for the hurricane in 1969 and that was pretty devastating," she said. "But there's no comparison to what has happened with Katrina."
Like many on the scene throughout the Gulf Coast, Warwick is disappointed in the federal government's initial response for the hurricane victims.
"We treat people in foreign countries better than that," she said. "It makes things seem very disturbing and hopeless."
Yet Katrina has also made Warwick thankful that her father, former Biloxi councilman William McVeay, passed last year after a long illness.
"I am thankful today for that blessing," she said of her father's death. "That way he did not live to see what has happened to the town he loved."
In coping with the tragedy in Biloxi and New Orleans just a few miles away, as well as other areas of the Gulf Coast, Warwick has turned to the Lava Rock Nursery she owns with husband Gary.
"It's my paradise," she said while walking amidst the nursery's trees and brilliant flowers. "I feel guilty saying that after what people are going through over there, but looking after the nursery helps keep me busy."
From now through October, Billie and Gary intend to put the nursery - located at 1990 Sunnyside-Mabton Highway - to work for victims of Hurricane Katrina.
"We at Lava Rock will donate 10 percent of our sales to these brave people," Billie said.
While Billie and Gary work and wait for news, she's hoping most of all the day will come soon to have an affirmative answer to the question, "Have you heard anything yet?"