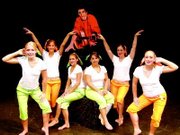 With the theme, "All Shook Up," the 2005 Miss Sunnyside Pageant this coming Saturday promises a good time for a good cause.
Miss Sunnyside hopefuls rehearsed for the Elvis-inspired show this past Sunday and director Jennifer Golden said preparations are going well.
Pageant tickets are available but selling fast. The annual pageant, held at the Sunnyside High School auditorium, typically sells out and provides a highlight for Sunshine Days.
The pageant concludes with the selection of Miss Sunnyside and her princesses, as well as awards for Miss Photogenic and Miss Congeniality. Miss Sunnyside candidates are: Corrin Veiga, Sherran Garcia, Heather Van Corbach, Stacey Olivarez, Kerri Urrutia and Dianna Mendoza.
This year's pageant will also feature guest vocal appearances by Rebecca Rodriguez and Corey Murphy.
As noted previously, this year's festivities will also help a good cause.
"Half of the proceeds from our raffle tickets will be donated to the Red Cross to help with relief efforts for victims of Hurricane Katrina," Golden said.
Raffle tickets go on sale today, Monday. Prizes range from cash to dinner and a movie. Raffle tickets will be sold both at the pageant and distributed around town by the Miss Sunnyside hopefuls.
Pageant tickets can be purchased at the Sunnyside Chamber of Commerce office, 520 S. Seventh Street.
For more ticket or raffle information contact Golden at 830-5621 or Pat Kezele at 837-7054.