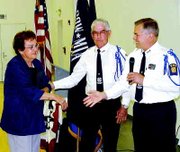 In what turned out to be a very emotional ceremony for the organizers and the award recipients, Sunday's Veterans War Memorial banquet saw many of the awardees wipe a tear or two from their cheeks.
According to Master of Ceremonies and Memorial Chairman Greg Schlieve, the mid-afternoon luncheon and awards ceremony was held to commemorate the completion of the memorial located in Lower Valley Memorial Gardens.
"We are here to honor those who have supported the dream and who have made major contributions to the project over the past 10 years," he said.
More than 100 people turned out for the event held at the Sunnyside Community Center. Plaques of black granite matching the walls of the Veterans War Memorial, as well as clear glass plaques and photographs of the memorial were presented to financial supporters on the $500, $1,000 and more levels.
"Our war memorial has won national honors from the National VFW organization and I wager there isn't another memorial in the nation which matches ours," said Schlieve.
"You in this room made it happen, he said. "It was your generosity and moral support which made this memorial a reality, " Schlieve added.
Recently, the final walls of the veterans monument were put into place. But Sunday's event was to honor such people as Don and Ruth Cole, the former publishers of the Home Reporter, who according to Schlieve, never failed to keep the work on the memorial on their front page.
Plaques were given to faithful contributors like Alma McDonald, a former Sunnyside resident, who lost a brother in World War II. The widow gave more than $500 to the memorial fund, often in small donations, which over time added up to quite a lot, said Schlieve.
"I kept getting $10 and $15 checks from this woman in Belfair," explained Schlieve. Pretty soon, her contributions amounted to quite a bit of money, Schlieve said.
Among the more emotional presentations was the one presented to memorial committeeman and former POW Les Amundsen of Sunnyside.
Schlieve said Amundson was one of the steady supporters of the project.
"He always gave us positive feedback and encouragement," Schlieve said.
Awards were also given to corporate sponsors and individuals like Bill Timmermans, who was the first person 10 years ago to donate $1,000 to the memorial fund. Also honored was Dick and Maxine Van De Graaf, who gave the second $1,000 to the project fund.
Others honored for large contributions to the memorial included Lila Furukawa, Tim Bardell of B7 Engineering, the Elmer Mattingly Family Memorial, as well as Curfman Steel, the City of Sunnyside, Lower Valley Memorial Gardens, Mountain States Contr., the Daily Sun News, Fred and Ann Whitley, Sprint, Chris Bestereur, and O.L. Luther Company.
"I believe this banquet is a fitting conclusion to this long process and I personally thank each of you on behalf of the veterans of our community for your support," he said.