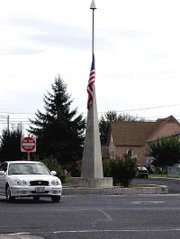 Sunnyside residents may have noticed that American flags at Sunnyside City Hall and the Jerry Taylor Veterans Memorial are being flown at half-staff.
According to Sunnyside Mayor Ed Prilucik, the flags will continue to fly at half-staff until Tuesday, Sept. 20, at sunset, by presidential decree.
Sunday, Sept. 4, President George W. Bush ordered that all flags flown on public buildings be lowered as a mark of respect for the victims of Hurricane Katrina, Prilucik explained.
Flags have been lowered all over the United States, as well as at American embassies around the world and on all military facilities and naval vessels and stations.
Prilucik reminds Sunnysiders that with the coming Sunnyside Sunshine Days Parade, set for Saturday, Sept. 17, that proper use of the American flag requires its prominence over all other flags. In addition, citizens are reminded that when the flag passes, it is a sign of respect for men to take off their hats and for all people to place the right hand over their hearts and stand.
In addition, flags used to decorate floats and motor vehicles are not to be draped over the hood, top, sides or back of a vehicle, according to the U.S. flag code.
When the flag is displayed on a motorcar, the staff shall be fixed firmly to the chassis or clamped to the right fender.
The flag, when carried in a procession with another flag or flags, should be either on the marching right; that is, the flag's own right, or, if there is a line of other flags, in front of the center of that line.