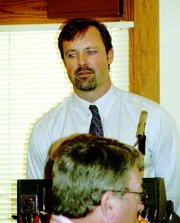 In an effort to be pro-active, Rotary International is asking all Rotary Clubs to adopt sexual harassment policies to protect both club members and the youth participating its international student exchange programs.
The sexual harassment policy request is really more of a requirement, said Jeff Barrom, Assistant District Governor to Central Washington Rotary Clubs.
Barrom, a member of the Sunnyside Daybreak Rotary Club, took his message to the Sunnyside Noon Rotary Club, which shares duties of hosting Rotary exchange students each year.
The two Sunnyside clubs are currently hosting a young woman from Turkey, providing her with housing, funds and entertainment while she experiences life in the United States.
"We are asking clubs to establish anti-harassment policies to safeguard the safety of our youth exchange participants here and abroad," he said.
Additionally, clubs will also be asked to obtain liability insurance, he said.
"We hope we never have need of the sexual harassment policy, but we would feel horrible if we hadn't take the necessary steps to protect our students," he said.
Barrom said clubs will be asked to include in their policies such things as interviews of potential host families, as well as criminal background checks.
"We hope this will never be an issue, but we'd rather be safe than sorry," he said.
Barrom said all Rotary International clubs located throughout 120 countries are expected to have a policy in place by the end of the current year.