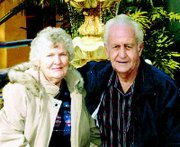 Joel and Janice Tate of Granger will celebrate 50 years of marriage with an open house and an Hawaiian cruise.
The couple was married on Sept. 17, 1955 at the Mabton Methodist Church. They will celebrate their union with an open house on Saturday, Sept. 17, at the Sunnyside Eagles lodge. Friends and family are invited to join in the festivities that are set to take place from 1 to 3 p.m. The open house is being hosted by the couple's children, Kathy Hull of Outlook and Brian Tate of Sunnyside. The couple will also observe their anniversary with a Hawaiian cruise in January.
The couple has lived in the Lower Valley most of their lives, and have three children, Curtis and Jackie Tate of Bellingham, Brian and Judith Tate of Sunnyside, and Neal and Kathy Hull of Outlook. The couple also has 11 grandchildren and six great grandchildren.
Mr. Tate works as a farmer, and Mrs. Tate is a homemaker.