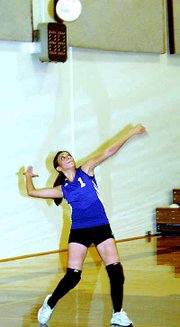 It was a tough night for the ticker Tuesday, as the Sunnyside Christian High School Lady Knights battled it out against the Mabton Lady Vikings.
Throughout the four-game volleyball match, the momentum went back and fourth, with Mabton eventually winning by scores of 25-22, 14-25, 25-21, 25-16.
"It was an exciting match," said Sunnyside Christian Coach Andrea Dobson. "There were some great rallies."
Mabton Coach Olivia Mendoza said going into the match she knew the Lady Knights would be strong servers, noting that her team had a chance to watch the Sunnyside Christian team play during the recent tournament held at the SunDome.
"They've always been strong servers," Mendoza said of the Lady Knights. "We knew this was going to be a tough team."
But in the end it was Mabton's hitting that helped propel the Lady Vikings to victory. She added that her team also did well at the service line.
"We do have some strong servers," Mendoza said, adding that her team also did well at the net against the Lady Knights.
Dobson said she saw some improvement in her team as they took on Mabton.
"Our blocking has greatly improved," Dobson said, adding that her team also communicated well on the court.
"There were times we let down though, and Mabton took advantage of that," Dobson said. "We need to play better defense."
Dobson said Tori Van Wingerden helped the Lady Knights keep pace with Mabton, noting that she hustled all over the court to set up plays.
"She did an awesome job," Dobson said of Van Wingerden. "(She) leads the team in the hustle department."
Van Wingerden finished the match with 51 assists, 6 aces and 2 kills. Also helping the Lady Knights were Chelsey Jones with 18 kills, 4 blocks, 4 aces and 20 digs; Andrea Schutt, who had 17 kills, 8 blocks, 5 aces and 15 digs; Courtney Rice, who had 8 kills, 15 aces and 10 digs; Abby Berkompas, who had 5 aces, 5 kills and 10 digs; and Jessica Schrotenboer, who had 12 kills, 5 aces and 22 digs.
Mendoza said it was senior Alida Mendoza who made the difference for the Mabton team. She said the senior did a solid job all the way around.
"She's a strong hitter and a team leader," the coach said. She just took control out there."
Mendoza had 17 kills, 3 aces and 2 blocks against the Lady Knights. Also helping Mabton overcome the Sunnyside Christian team were senior Mayra Diaz, who had 9 kills; Josie Chase, who had 12 assists, 3 kills and 2 aces; and Adriana Cardenas, who had 9 assists.
The Mabton team will take to the court again this Thursday evening at Klickitat. The Lady Knights will play again this Thursday evening at White Swan.