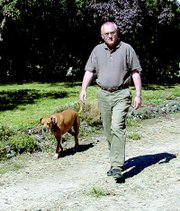 Each day for the past two years U.S. Army Reservist Wallace Anderson of Sunnyside donned a police uniform and went to work in a downtown Baghdad police station. It was a job that could have cost him his life.
No stranger to police work, the former Sunnyside police chief still wasn't prepared to be shot upon daily while training members of the new Iraqi police force.
Stationed for most of his tour in Baghdad, Anderson said even the hotel, where he and fellow police advisors were housed, was under constant guard by a force of 300 Kurdish soldiers.
Bombing around the city and near the hotel was a daily occurrence as the Iraqi insurgents protested the Americans' presence in their country.
Anderson, who was senior adviser to the Baghdad Chief of Police, was hand picked by the U.S. State Department to be a member of the international security transition command. His job was to work with the Iraqi government to establish a modern police force under war time conditions.
Anderson, who has a long military career reaching back to the Vietnam era, has spent the majority of his adult life in civilian law enforcement, as well as serving as a reservist in the U.S. military.
But serving as the international police advisor to the head police official in Baghdad was by far some of the harshest duty the man has endured in his career. Anderson was one of 25 civilian police officers selected to be a part of the initial Civilian Police Assistance Training Team. He was charged with aiding the Iraqi law enforcement leaders in regaining civil order, even as the insurgents continue to bomb and attack their own people.
Part of the team's job was to establish screening procedures for new Iraqi policemen and set up a modern police academy for the Iraqi government.
Upon arriving in the country in October 2003, Anderson quickly found himself traveling the war torn streets of Ramadi and Baghdad in armored SUVs in caravans of two and sometimes three vehicles. All police personnel carried serious artillery, including AK47 machine guns, M16 assault rifles, 9mm pistols, when leaving the police quarters, he said. Patrols round the city required that the police and U.S. advisors travel in teams of two persons, plus interpreters.
He said the advisors were often in as much danger from the suicide bombers as the native police officers.
"We lost a number of our own who were training or working with the Iraqi officers," he said.
Anderson admitted he was shot at several times while patroling the streets of Baghdad with his teams.
"But we were in the middle of a war zone and there are insurgents everywhere," he said.
"Many times, we found ourselves in areas where insurgents had control and we were forced to find our way out of an ambush situation," he explained.
Along with wearing heavy body armor in desert temperatures, which sometimes reached 127 degrees, the police officers were under attack by the very people they were trying to protect, Anderson said.
"They didn't have their own cars and had to ride buses to the police station on their way to work," he said.
"The Iraqi policemen never wore their uniforms to work, because being seen in police uniforms could cost them their lives," he said.
"If the people on the buses found out they were police, they ran the risk of being shot," he said.
Even police headquarters were not safe, as the Iraqi suicide bombers frequently bomb any place they feel is being occupied by Americans or U.S. soldiers, Anderson said.
"The Iraqi officers are truly brave men, make no mistake," Anderson said.
Anderson, who found himself working with police chiefs in several of the large Iraqi cities, worked to set up a police training academy to train police officers the rudiments of police work.
"We were not training them as replacement soldiers, although some of the policemen were former soldiers," he explained.
Anderson said as part of the police task force's mission, screening of potential officers was very strenuous.
"We conducted background checks on candidates to make sure the candidates were not among the thieves and murderers that Saddam had set free just before the fall of his regime," he said.
Anderson said his advisory job was one of trying to keep the police officers alive while training them how to police the cities. It was also a job filled with political intrigue.
The police chiefs are under the supervision of the Iraqi Ministry of the Interior, Anderson said. He said the line of command is very centralized. "Things don't get done until everyone's opinion has been asked," he explained.
"The Ministry controls not only the police, but all emergency services from ambulances to fire brigades," Anderson explained.
Training the officers was not the hardest part of the Civilian Police Assistance Training Team's mission, Anderson said.
"We lost many of our officers after getting them through the police training," Anderson said. He said in recent months it has gotten harder to recruit replacements.
"The Iraqis resent our presence in their country," he said. "They naturally see us as invaders. But when we ask the Iraqi city police chiefs if they want us to leave, they say no. They aren't ready for that yet," Anderson said.
It's a situation which Anderson doesn't see lessening any time soon. Anderson fears the national police force will continue to be in danger as long as the insurgents continue to bomb the country.
Now home for what his family hopes will be for good, Anderson is relaxing after a tour of duty that called for the man to bring calm in the midst of chaos.
Before being called to work for the U.S. State Department's joint policing program, Anderson, a U.S. Army Reservist Division Sgt. Major, was already active in the Iraqi war effort as the man responsible for activating reservist units and military troops in the western United States.
"While I was in Colorado two years ago, I was asked if I was interested in becoming a part of a police advisory to the Iraqi Ministry of the Interior, which oversees the nation's police force," he explained.
On the strength of Anderson's resume, he earned a spot on the State Department's first team of 25 American veteran police officers, many of whom were ex-police chiefs, like himself. Anderson soon found himself being posted to the lead team of the Civilian Police Assistance Training Team, which was headquartered in Baghdad.
The team eventually grew to 500 American policemen serving as advisors to the more than 35,000 newly trained Iraqi policemen scattered throughout the 18 Iraqi provinces.
Anderson doesn't anticipate traveling back to Iraq any time soon. For now, Anderson is content to stay at home walking his dog, Jake, checking the mail and spending time with wife Brenda.
"I also intend to spend a lot of time spoiling the grandkids," he added.
"They (the State Department) can find someone else to do that job for a while," he said.