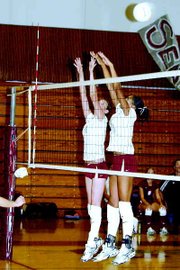 GRANDVIEW - Grandview High School may have a rather young volleyball team, but that didn't stop the Lady Greyhounds from putting away the Connell Eagles in three games last night.
The Lady Hounds won by scores of 25-18, 25-8, 25-18 to open CWAC play.
"I could tell we had some new girls who were a little nervous in a couple of places," said Grandview Coach John LaFever.
This year's varsity team consists if just one senior, Tonhya Wysong, two juniors, seven sophomores and two freshmen.
LaFever said for many of his younger players Tuesday night's match served as an introduction to varsity play, which is what he attributes to some of the team members' nerves.
Despite being a young team, LaFever said he thinks he has a pretty good squad this year.
"They have a real intensity to them," LaFever said of his players.
And it's that intensity that helped the Lady 'Hounds overcome the Eagles.
LaFever said this year's Grandview team is a little defense oriented, which was something that stood out during the match.
"Our defense was pretty good," LaFever said, adding that he was also happy with the way his girls served against Connell.
LaFever said going into the match he knew Grandview was going to have to watch for Connell senior Chantel Booker.
"She's a pretty good hitter," LaFever said of Booker.
But Grandview's strong defensive skills proved to be too much for the Connell player.
Helping the Greyhounds overcome the Eagles were Danika Martinez, who had 6 aces and 11 service points; Jessica Gonzalez, who had 4 aces, 11 service points and 13 digs; Raissa Licano, who had 2 aces, 5 service points and 4 kills; Kealey Johnston, who had 12 kills and 12 digs; Sydney Mottice, who had 3 kills and 4 blocks; Chante Bottineau, who had 19 assists; Tonhya Wysong, who had 24 digs; and Kinzi Poteet, who had 3 blocks.
"All of them did a pretty good job," LaFever said of his team's efforts.
The win over Connell follows Grandview's performance at the Ellensburg jamboree, which was held on Sept. 6. The Lady 'Hounds walked away with a first place finish, after winning over teams from Othello, Ellensburg and Ephrata.
The Lady 'Hounds will take to the court again this Thursday evening at Naches.