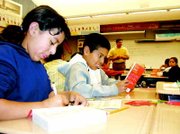 There was a striking color combination on display at Chief Kamiakin Elementary School Tuesday afternoon, as people in bright yellow shirts delivered bright red dictionaries to more than 400 Sunnyside fifth graders.
Members of the Sunnyside Daybreak Rotary Club, dressed in yellow polo shirts, spent the better part of Tuesday delivering dictionaries to fifth grade students in the Sunnyside, Mabton and Granger school districts. All told, the service club delivered 750 dictionaries to children throughout the Valley.
Jeff Norem, president of the Sunnyside Daybreak Rotary Club, said one of the organization's goals is to spread literacy.
"So we decided to take the initiative," Norem said of the local club.
Sunnyside Daybreak Rotary has spent the past four months organizing the dictionary giveaway. Norem said the club did some fund-raising to help pay for the dictionaries, and was also able to procure a grant from Rotary International to help offset the cost of the books.
In order to raise the funds for the purchase of the dictionaries, Norem said Rotarians turned into salesmen and sold both steaks and berries.
Julie Schmick, principal of Chief Kamiakin, said having the dictionaries delivered to her students meant a lot.
"These books will be helpful from now until they fall apart," Schmick said, noting that dictionaries are something her students will use for years to come.
She added that it's also nice for her fifth graders to get a book to call their own.
"Now they have their own book they can look up words in," Schmick said.
She added that having the dictionaries delivered to fifth grade students is not only a pleasure, but it also promotes one of the grade level expectations for those students. Schmick said fifth graders are at a level of learning where they should begin using dictionaries.
With all of the educational benefits that come along with dictionaries, Schmick said one of the most important aspects of receiving the dictionaries is that it is another example of the community giving back to its children.
Schmick said an unknown person walking into the classroom and giving each student a gift is great.
And Norem is hopeful that his club's involvement in the local school districts won't stop with the delivery of the dictionaries. He said the club is hoping to organize a mass spelling bee later in the year, which will promote both literacy and the use of the dictionaries.
Norem said although no formal plans have been made yet involving the spelling bee, he would like to see it turn into an event that involves each of the school districts that received dictionaries.