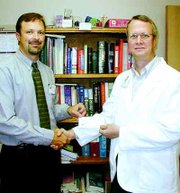 GRANDVIEW - Grandview physician Dr. Albert Fiedler is trading his stethoscope for a chainsaw to help a Louisiana town recover from Hurricane Katrina.
Fiedler is one member of a six-person team leaving tonight (Thursday) for Pearl River, La., east of Baton Rouge.
Prosser dentist David Grow heads up the team, which also includes Dyanne King, Loren King, Roy Shepard - all of Prosser - and Jan Grimmius of Grandview.
Originally, Grow said several families from the Nazarene church in Prosser were hoping to receive hurricane refugees.
But the mission changed from receiving to going when Grow came across an e-mail from a Pearl River Nazarene church expressing an urgent need for help.
"It's a small church of 50 people but they've ended up feeding 600 to 1,000 people," Grow said. Making the need more urgent, he added, is that Red Cross workers left Pearl River when it received electricity and moved to areas that are less stable.
"The people that live there are helping but are fatigued," Grow noted. In response, volunteers from Nazarene churches around the country will be dispatched to Pearl River for one or two week periods. "They've already got teams arranged through the end of November," Grow said.
The Grandview/Prosser team will be in Louisiana for about a week and return Sept. 24. While there, Fiedler said he and others on the team will be "general laborers" helping to clear downed trees so power lines can be fully restored.
"I heard last night that their power is 40 percent restored so far," Grow said. Helping the debris-clearing effort is Anderson Motors in Grandview, which has donated two full sets of chainsaws.
This won't be Fiedler's first experience at shedding a lab coat for a tool belt as he has participated in volunteer labor mission trips to Peru, Guatemala and Dominica.
Fiedler is on the medical staff of Sunnyside Community Hospital. Grandview is one of five clinics operated by the hospital. In his absence, Dr. Martin Dudek and Fiedler's assistant, Susan Bussert, will see patients.
The same is true in Prosser where Grow's patients will be treated by other dentists.
Fiedler is eager to help and get started on the ground in Louisiana.
"I feel like it's the right thing to do," he reflected. "People don't have a home to go back to, they're hungry, but the main thing is they asked us to come."
By the way, Fiedler won't entirely leave his medical training behind when he gets on the plane tonight.
"I'm bringing a suture kit along with me," he noted, "just in case we need a team doctor."