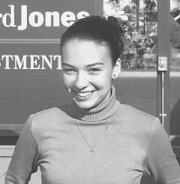 Eda Calguner has only been in Sunnyside for a few weeks, but the new Rotary exchange student is already finding her new home a comfortable place to be.
Calguner, 17, arrived through the Rotary exchange program from Turkey on Aug. 25.
"My first aim was to see and learn about other cultures and other lifestyles," said Calguner of why she became a Rotary exchange student.
Calguner lives with her family in Ankara, the second largest city in Turkey. Ankara, said Calguner, is a city of between three and four million people. Her father is a lawyer and her mother is a professor at a college in Turkey, where she teaches medicine. Calguner's brother is an industrial engineer.
Calguner has already graduated from what we call high school in the United States in her native Turkey. When she returns home at the end of this school year, Calguner will attend college, studying economics.
Calguner's first love is architecture. She enjoys drawing. But a college entrance exam matched Calguner with the field of economics, which is the course she will now pursue. Calguner said while she would much rather be an architect she still enjoys economics, mainly the math portion of the field.
Going through the Rotary exchange program, Calguner felt she could improve herself in a few different ways. Besides wanting to improve her English, which is quite well spoken because of the education she received back at home, Calguner wanted to introduce her home country to people in America.
Calguner said many people have a false image of Turkey being a barren land. But she said her home country is actually quite beautiful.
"I also wanted to adapt myself to (dealing with) different situations and conditions," said Calguner.
So far, Calguner has enjoyed being in Sunnyside.
"I like it here very much," she added. "In Sunnyside, everyone is warm and friendly."
Calguner said she had a chance to learn a bit about the Lower Yakima Valley area from the Internet and a foreign exchange student from Yakima who went to Turkey.
High school life is also something Calguner has been adapting to while in America.
"It is also good (there)," she said.
Calguner is participating in Drama Club at Sunnyside High School and would also like to become involved in sports. She enjoys swimming and tennis.
While her year as an exchange student is only beginning, Calguner is enjoying her time and looks forward to future endeavors while in America.
"I am learning to adapt myself here," she smiled. "I am starting to have my dreams in English."