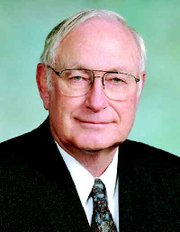 There is no lawmaker in the state who works harder supporting the interests of employers than Sen. Jim Honeyford.
So decreed the Association of Washington Business yesterday in announcing that Honeyford (R-Sunnyside) is this year's recipient of its Matson Award. The award is presented annually to the state legislator who consistently supports issues important to Washington's employers.
The Matson Award was established to honor the death of Sen. Jim Matson (R-Selah), a member of the Association of Washington Business who owned and operated Matson Fruit Company. The award is the highest a legislator can achieve at the Association of Washington Business, the state's oldest and largest business group.
Honeyford, a long-time Sunnyside resident, will be presented the award at the Association of Washington Business regional board meeting in the Tri-Cities on Nov. 16.
An educator for 28 years and once a Sunnyside City Council member, he was first elected to the state House of Representatives in 1995. Local voters made him their choice for the state Senate in 1998.
"Over the years Jim Honeyford has been a stalwart for employers and promoting jobs," said Association of Washington Business President Don Brunell.
"He is an able leader and a lawmaker who inspires other elected officials.
"He has taken on many tough committee assignments dealing with labor issues, and led the effort in 2003 to reform the state's unemployment insurance laws," Brunell continued.
Honeyford represents the 15th Legislative District, which includes Klickitat, Skamania and parts of Yakima and Clark counties.
"There is no one more deserving of the Jim Matson Award than Jim Honeyford," Brunell added. "He stood his ground, much like Jim Matson did, that earned him the unanimous recommendation as the 2005 winner."
Past winners of the Matson Award have included the late Sen. Irv Newhouse (R-Mabton) and Rep. Barb Lisk (R-Zillah).
Sen. Jim Honeyford