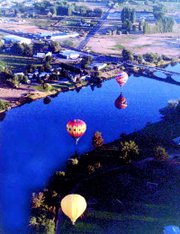 PROSSER - The skies over Prosser will be filled with giant, rainbow-colored, hot air balloons when the Great Prosser Balloon Rally takes flight from the Prosser Airport Sept. 23-25.
The 16th annual three-day event will feature more than two dozen balloons with sunrise launches scheduled, weather permitting, at 6:30 a.m. at the airport.
Spectators are urged to arrive early to watch the balloon pilots unload and inflate the giant balloons for their aerial parade.
Along with the sunrise launches, balloon fans may attend a night glow Saturday, Sept. 24, at dusk at Art Fiker Stadium. The gate will open at 5:15 p.m. with pre-show entertainment to include the Tri-Cities Steel Band Association and a barbecue, hosted by the Prosser FFA chapter.
The balloons will be anchored and illuminated, displaying their colors against the night sky. Admission to the balloon glow and the launches is free.
Other weekend events will include breakfasts at the airport, the Riverside School and at the Prosser Senior Citizen Center. Visitors to Prosser will also want to visit the Prosser Harvest Festival to be held in downtown Prosser. This year, the event will included a street painting festival and the Prosser Farmer's Market.
Friday Sept. 23, a "Balloon-n-Tunes" dance will be held at the Port of Benton's Wine and Food Park. The dance, sponsored by the Prosser Chamber of Commerce and the Port of Benton, will feature a beer and wine garden. Dancing begins at 7 p.m. to the music of Highway 12.