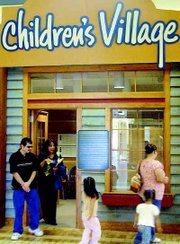 Going to the mall means shopping, usually. But at Mid-Valley Mall in Sunnyside, youngsters can also go see their doctor.
Since 2000, the Children's Village has called the mall home, serving children from birth to age 18. "It's kind of one stop shopping for pediatric care," said Bettie Ingham, Children's Village director based in Yakima.
The first village opened in Yakima in 1997 and served 900 children. Last year it served 3,500, a third of them in the Lower Valley.
Medical care offered at Sunnyside's Children's Village - which features a cheerful, western facade - includes dental, motor and speech therapy and infant/toddler early intervention.
In addition, cardiologists from Seattle Children's Hospital visit the village once a week. More than 20 medical services in all are offered.
Ingham said care is available to all income levels. Medical insurance and Medicare are both accepted.
"We try to work with each family," said Ingham. She added that 70 percent of referrals to the Children's Village come from primary care physicians.
"There are times when a primary provider may see something of concern and refer patients to us," Ingham explained. "We consider the primary care provider as part of the team."
It was the desire for collaboration in medical care that brought about Children's Village in the first place.
"We saw that parents were having to drive to Seattle for service or running around with appointments at different locations," Ingham recalled. "They were having to fill out the same paperwork at each place, medical service was not coordinated."
Children's Village became the answer.
"Maybe a child comes for motor therapy but while they're here their dental needs can also be met," Ingham offered.
"It's great!" said parent Sandra Raymond, whose three-year-old daughter Shyla is a patient at the Sunnyside Children's Village. "We don't have to travel to Yakima any more."
Raymond added that workers at Children's Village have helped put her in contact with medical specialists.
For Mary Sanchez, mother of three-year-old Emilio, Children's Village is a life line. "This is close enough for me to walk to since I don't have a car," she said.
Jessica Osuna added Children's Village provides the side benefit of playmates for her three-year-old daughter, Erika, an only child.
The village is operated by five partners: Memorial Hospital, Yakima Valley Farm Workers Clinic, EPIC head start services, Comprehensive Mental Health and the Memorial Foundation.
Each partner lends their own expertise to the project.
The Yakima Valley Farm Workers Clinic provides dental care, for example, while Memorial Hospital provides speech therapy and the Memorial Foundation carries out fund raising activities.
"We are a very unique entity and have become a model for how to provide services to a rural area," Ingham said.
Sunnyside's Children's Village is even more unique given its location in a mall.
"That location was selected because it's easily identifiable," Ingham noted. "That's a good focal point and people know the location as soon as we tell them it's in the mall."
Yet with the program's growth, Ingham said location will continue to be part of the planning process. It's estimated Children's Village visits will mushroom to 20,000 this year in the greater Yakima Valley - nearly a six-fold increase over 2004.
The idea of medical care provided at one location might appeal to adults as well, but Ingham said the program isn't yet ready to handle a "grown-up's village."
But the idea has merit, she adds, "I think there's getting to be more and more recognition of how important it is to coordinate services, and agencies are looking for opportunities to do that."
The Children's Village at Mid-Valley Mall is not staffed full time by a receptionist. Those interested in its services or wanting to set up an appointment are asked to call the Yakima office toll-free at 1-800-745-1077.