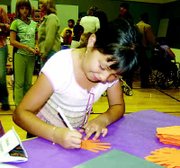 OUTLOOK - Would be strangers came together Thursday night not only to work to better the educational experience at Outlook Elementary School, but also to lend a helping hand to those effected by the wrath of Hurricane Katrina.
Thursday night marked the open house at Outlook Elementary School. It was a time for parents to come into the school and see where their students attend class, meet new teachers and tour the school. But it also served as a chance to make both students and parents aware of things going on outside of the Yakima Valley.
Outlook Elementary School Principal Cathy Mears said school staff members and members of the school's booster club decided that the open house would be a perfect time to begin the school's newest community service project.
At a table set up in the school's multi-purpose room, parents and students had a chance to donate money for the victims of Hurricane Katrina, as well as purchase raffle tickets for everything from Cowboy Buck and Elizabeth CDs to a Sunnyside High School blanket. All of the proceeds from the raffle also went to victims of the Gulf Coast hurricane.
Event organizers also asked those who did donate funds for hurricane relief to sign their name on a paper hand. The hands will then be linked together and displayed at the school.
Mears said she is hoping that the school's involvement in hurricane relief will continue throughout the year. She said at some point in the future she'd like to see her school raise money to purchase school supplies and books for those schools effected by the storm.
She added that introducing the students at the school to charity, especially in the face of a national tragedy, is good.
"Every one of us can do something," Mears said. "That's the message we want to carry here."
She said those who helped organize the fund-raising effort felt that the open house would be a good place to start because there would be a lot of traffic through the school. Mears said in years past as many as 500 parents have attended Outlook's open house.
"We knew it would be a good time to get this rolling," Mears said.
Chantile Hutchinson said herself, fourth grade teacher Jamie Tilschner and paraprofessional Shandee Sustaita helped organize Thursday night's fund-raiser, which she hopes will be one of several put together at the school for hurricane victims.
"It's important to have kids relate to people throughout the United States," Hutchinson said.
She said one of the fund-raising ideas that is being considered for later in the year is a wheelchair basketball game.