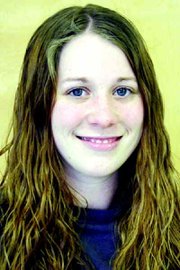 by Rachel Bott
America is generally considered worldwide one of the most powerful, fast-paced and modern countries on the globe. Yet as a country, it's disappointing that we seem to be so behind at times when it comes to music. Often an incredible band will release its music and it can take months, sometimes years, before it ever reaches our CD store shelves and our ears.
For whatever reason, Shout Out Louds' debut album, "Howl Howl Gaff Gaff," took 1-1/2 years to make its way here, yet is of notable mention still. A classic example of the Swedish punk/indie rock movement, characterized with the distinctly rambuctious sound of electronica organ, this band truly has some wonderful things going for them.
The band highlights this music genre with stellar drumming, captivating vocals and the overall catchy unforgettableness of each track. Confident and energetically reminiscent are the tone that builds a foundation for this set. The CD mirrors the unique qualities shared by the Shins, a cult-classic like group whose talent is undeniable and usually never similar to any others.
The time and effort put into the "HowlHowl Gaff Gaff" CD are quite impressive, based solely on how easily the songs completely seize your attention and eagerness to keep it playing over and over again. Each song stands out obviously with different lyrics and background music, but they meld together so well. Either the band put much thought into their songs, weaving them together seamlessly in a perfect track progression, or it just sort of miraculously happened that way.
I love the fact that the songs are quirky and playfully original, but they are also sharp-witted. I simply can't tell if this group spent months and months fine-tuning the CD or slaved away for a week on songs that were already so great they didn't need much work. It's a delicate balance, and is definitely amazing.
It's difficult to even attempt to narrow down the set list into even three favorite songs because if I seperated any of it, then theCD would not be whole and complete. It's the type of CD that is all or nothing. If you skip through parts of it, you lack a much needed part of the story.
"The Comeback," which begins this musical tale, features plaintive vocals and a smooth sort of freely rolling sound. It speaks of coming back together because "these last three weeks were the saddest weeks..."
The banjo beginning, passionate violin, and impossible-not-to-sing-along-with lyrics of "Oh, Sweetheart" yet again display the variety and musical genious of the band. In "Shut Your Eyes," Adam (the lead singer) screams the words, "But if I'll shout shout shout my name you will always remember my name..." I find that this isn't actually necessary. After one listen to this CD, I was already hooked, and I remembered their name quite well.
For those who appreciate creative ambition genuinely created by talented musicians, buy this CD and lose yourself in it. For those who generally stick to a single type of music or one band and have never heard of this group I've been speaking of, buy it anyway. It's a treat worth losing yourself in!
Rachel Bott is a music enthusiast who is employed as a paraprofessional at Outlook Elementary School.