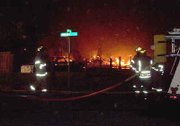 OUTLOOK - A late night fire caused an estimate $40,000 in damage to an Outlook home over the weekend.
Saturday night, Sept. 17, Yakima County Fire District 5 firefighers were called out to the scene of a garage fire at 110 Second Ave. in Outlook. When firefighters arrived they found the detached garage was fully engulfed in flames, and the fire had jumped to the adjacent home.
It took four Yakima County Fire District 5 stations and 28 firefighters nearly two hours to get the blaze under control.Zookfficial Pat Mason noted that once the fire was brought under control, firefighters set to work finding any hot spots in the structure. He explained that due to the construction of the home, finding the spots that were still burning took quite a bit of time.
According to Mason, the home was a 1970s mobile home that had been added on to, with both a second roof constructed on top of the mobile home and an additional room added to it.
According to Yakima County Fire District 5 officials, the home is owned by Marisela Soto and was being lived in by Yolanda Mendoza.
The fire is currently under investigation by the Yakima County Fire Protection Bureau.