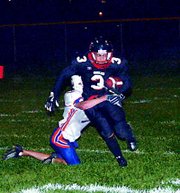 The good news for Sunnyside High School football fans after this past Friday night's 33-0 loss to Eastside Catholic is that none of the problems the Grizzlies have are unfixable.
The main problem for the Sunnyside faithful is coming on the offensive side of the ball, which was apparent on Friday.
Sunnyside football coach Mark Marro has a relatively young squad, which is making the learning curve even more difficult. But for the Grizzlies to have some success this season they are going to need that one person who steps up in the huddle and takes charge.
Despite the final score on Friday, the Grizzly defense actually played well. The score was just indicative of what happens when a defense is left out on the field too long.
"We played real well," said Marro. "We didn't move the ball offensively and that is what hurt us."
The Grizzlies had some success against the Crusaders' Jason Butler, who just recently set a State 3A reception record. Butler was able to break free in the second quarter off a 38-yard pass play from Corey Nasman for a touchdown. Butler and Nasman hooked up again early in the fourth quarter on a 40-yard pass play.
But Marro said despite Butler getting a couple of touchdowns, he felt the Grizzly defense contained him well on Friday night.
The Crusaders would go on to score three more touchdowns in the fourth quarter, including a blocked punt for a score.
"The last four or five minutes just kind of disintegrated on us," said Marro.
After a couple of weeks where Sunnyside's defense was causing issues for the Grizzly coaching staff, the evident problem now is what to do with a young offensive group that struggled greatly in moving the ball on Friday.
"We are primarily a running team and we just didn't move the line of scrimmage," said Marro.
Sunnyside quarterback Jaime Sambrano finished 7-of-17 for 28 yards with three interceptions. Adrian Cantu was also in for a series behind center, going 1-for-5 for 20 yards with one interception.
Brandon Coleman had three catches for 20 yards while Kyle Tyler had one reception for 15 yards.
The problems with the offensive line were evident in the usually potent running game of the Grizzlies. B.J. Miller had a decent night, racking up 88 yards on 26 totes, but Joseph Villanueva struggled, as he had only six yards on three carries.
Marro was pleased with Villanueva defensively, as both his running backs our going both ways.
Marro said his young squad still has some work to do, but he was pleased with the effort.
"We are really growing," said Marro.
Sunnyside (0-0, 0-3) will have its work cut out this Friday night at Prosser in the Grizzlies' Mid-Valley League opener. The Mustangs are coming off a 35-28 loss to 2A power Pullman in a game where Prosser trailed all the way.
"They are a real even team," said Marro of Prosser. "We are just going to show up and see what happens. When we start to believe (in ourselves good) things happen."
1 2 3 4 T
EC 0 7 0 26 33
Sunnyside 0 0 0 0 0