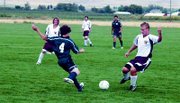 Its home field proved to be a brutal place to play for the Sunnyside Christian High School boys soccer team last Friday and Saturday.
The Knights played tough but a few bad breaks led to Sunnyside Christian's first defeat of the season.
On Friday, the Knights battled to a 1-1 draw with a physical Evergreen Lutheran squad.
The Knights' Aaron Van de Graaf complemented an overall nice game by scoring the lone goal for Sunnyside Christian. Van de Graaf pounded one in the back of the net off an assist at the 18th minute from teammate Michael DeGroot.
Evergreen Lutheran battled back, knotting the score at 1-all with a goal in the 61st minute.
"I think there was some confusion on defense," said Sunnyside Christian Coach Russ Smies of the game-tying goal.
The two teams battled to a tie because of a time limit rule and another tournament game was following theirs.
Knights keeper John Bosma had a strong game in the net, recording seven saves.
Sunnyside Christian failed to capitalize on several chances to bust the game wide open. The Knights missed numerous first half scoring opportunities on shots they were unable to finish.
The passing game of the Knights was a highlight on Friday, said Smies.
Smies said the difference in the game was the depth of the Evergreen Lutheran bench.
"They have got a bigger team," said Smies. "I think they just held with it (more than we did)."
The Knights saw their early season undefeated record come to a grinding halt on Saturday. Visiting Valley Christian out of Spokane handed Sunnyside Christian a 1-0 loss.
The game-winning goal happened right before the end of the first half, coming in the 39th minute.
"They were really pushing our defenders," said Smies.
Statistically, the game was pretty even, as the Knights had seven shots on goal and Valley Christian had eight. Bosma had another strong game in the box with seven saves.
Smies said Valley Christian was able to slow the game down in the second half with a strong defensive effort.
"We worked hard both games," said Smies. "We worked very hard, but we (still) have some work to do."
The Knights (2-1-1) hit the road this week, opening league play at Moses Lake Christian on Tuesday. Sunnyside Christian then travels to Spokane for a rematch with Valley Christian this coming weekend.