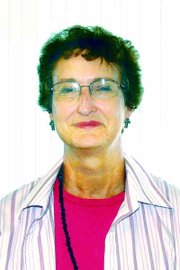 She's a new face at Sunnyside's Our Saviour's Lutheran Church, but she is no stranger to Yakima Valley Lutherans.
Lois Belzer is serving as a pastoral intern at the Sunnyside church, a position she hopes will give her the experience she needs to one day have her own church.
Belzer, who lives in the Parker Heights area, made the switch from being an apple orchardist to her current career following the death of her husband nearly six years ago.
"I don't think I'd thought much about going into the ministry, until someone suggested I consider the church as a career option," she said.
"I may have once said I'd like to go into the ministry a long time ago, but I don't recall that," she said.
But when the idea was again suggested to her, the time was right, she explained.
"I was asked to be a part of a pastor's study which focused on what it means to be a Lutheran," she explained.
Before long she realized that she wanted to be of more service to her religion. Belzer joined TEEM (Theological Education for Emerging Ministry), a program designed to train pastors in rural and inner-city settings where there can sometimes be a problem filling pulpits. Belzer said the program is for second career people, those individuals over age 40, who are called to serve.
As she has trained to become a full-fledged minister, Belzer has attended classes at Pacific Lutheran Theological Seminary in Berkeley, Calif.
"We work with ordained pastors who serve as our mentors," Belzer explained.
Her mentor's role is currently being held by Pastor Ron Jetter of Sunnyside Our Saviour's Lutheran Church. For the next nine months, Belzer will shadow Jetter as she begins to learn the practical side of being a pastor.
"She will have an opportunity to practice such activities as home visits, hospital calls and in general learn how to be a pastor," Jetter explained.
Belzer said the TEEM program is a two-year commitment. "Ideally, participants are able to take on their own church at the end of the two years," Belzer said.
"I'm still looking at what my area of service may be, but I'm leaning toward work with the elderly," she said.
"I love chaplaincy work," she added.
But eventually she sees herself working in a ministry which will involve Hispanics.
"I worked with many Hispanics while my husband and I were fruit farmers. I have a real desire to work with them again," she said.
"Perhaps I'll be able to blend a ministry that combines work with the elderly and the Hispanic community," she said.