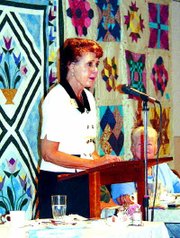 PROSSER - When Iva Lou Chestnut of Gig Harbor was growing up she knew exactly what she wanted to accomplish one day. She wanted to live the American Dream.
Chestnut wanted to get married, have children and stay at home to raise her family.
Monday afternoon, Chestnut shared her story with members of the Lower Valley Christian Women's Club.
Chestnut said it hadn't dawned on her early in her life that what she wanted to accomplish was the traditional American Dream. She said it wasn't until she went to lunch with a friend years after high school that her friend told her that she was only person she knew who had accomplished everything she wanted.
"You're the only one who really accomplished the American Dream," Chestnut said her friend told her.
Looking back, Chestnut realized that although her life may have seemed like the American Dream it was something that had taken years of work to accomplish. She added that a lot of that work was spiritual.
Chestnut said when she graduated from high school she chose to attend college at a university that was 2,000 miles away from her parents. Then, after a year at school, she got married and permanently moved to a community that was far away from her hometown.
Soon after marrying, Chestnut said she had her first son and soon after a second son.
She said her husband was very sweet and even worked two jobs to ensure his family was well taken care of. Chestnut said after awhile her husband's hard work was noticed and he was made the assistant manager of the savings and loan where he worked.
"I was very proud of him," Chestnut said.
She said at that point in her life she had a nice home, a great husband and two healthy young boys.
"I remember thinking that those were the things I had always wanted," Chestnut said. "I was sure that if I achieved this I would be happy."
Instead, Chestnut said she found that she wasn't happy. She said she had three problems in her life. She had an emptiness deep down inside, a fear of death and a constant feeling of unrest.
Chestnut explained that she had grown up in a Christian family, and had always gone to church and read the Bible.
She said she could remember back to when she was a teenager. She said after going to church and reading the Bible she had come to the decision that there were three things people needed to do to have a relationship with God. Chestnut said she knew that everyone had sinned, and she accepted that people have to ask God to forgive them, but she didn't understand the third element in having a relationship with God.
Chestnut said she didn't understand how to ask God to be her personal Savior.
She explained that as a teenager she had made up her mind that what that meant was she had to be good enough. She said she made sure she prayed every day and read the Bible every day to help ensure that she was good enough to have God as her personal Savior.
"In my final adolescent years I decided that you didn't know if you were going to Heaven," Chestnut said. "You could only hope you were good enough."
Chestnut said she continued to live her life that way as she went to college, got married and raised her children.
It wasn't until her parents moved to be closer to her and her family that Chestnut became aware that one thing that was missing in her life was very much alive in her parents' life.
She said she noticed that her parents were happier than she could ever remember seeing them. She added that she also noticed that both of her parents were reading the Bible and getting excited about it.
"As I observed their life I really liked what I saw," Chestnut said. "They had contentment and joy that I didn't have."
Then one day she noticed that her parents referred to God as their Savior and Lord.
"Slowly I began to understand," Chestnut said. "I knew that He was our Savior. I didn't understand that he was Lord of my life."
Over time, Chestnut said she made the decision that she would ask God to be her Lord and Savior.
"But I was frightened," she said.
It wasn't until her parents took her and her husband to a church dinner that featured a guest speaker that Chestnut realized how easy it would be to ask God to be the Lord of her life.
She said that was the night she said a prayer asking God to come into her life and be her Lord and Savior.
That was all it took for Chestnut to realize that she was actually living the American Dream.