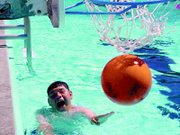 GRANDVIEW - Most people take going for a dip in the pool or shooting hoops for granted. But for some people simply getting into the swimming pool can be an arduous task.
The Grandview Parks and Recreation Department has spent the past 20 years making activities like swimming and playing basketball something that is available to a unique audience.
For more than two decades, the program has been working with clients of Community Living in Sunnyside and residents of the Sunnyside Housing Authority Boarding Home to ensure that the people who use these agencies are able to take part in recreational activities that otherwise wouldn't be available to them. Both Community Living and the boarding home help those with developmental disabilities.
Tammy Hollingsworth, residential services director for the Sunnyside boarding home, said her residents get a chance to take part in the Grandview Parks and Recreation Department Adaptive Gym program once a month.
"They play some sports and have a snack," Hollingsworth said of the program.
Gretchen Chronis, deputy director of the Grandview Parks and Recreation Department, said once a month her staff opens one of the school gymnasiums for residents of the boarding home. She said they then spend about an hour playing games and activities with the residents before sharing a snack with them.
Chronis said the activities can range from shooting hoops to dancing to racing.
"They like to race against us," Chronis said.
She added that when the Parks and Recreation staff sets up for the Adaptive Gym night they put out various equipment for the residents to use. The equipment can include basketballs, Nerf footballs and rubber bouncing balls. But, she added, her staff does whatever the residents want.
Hollingsworth said the program is nice for her residents because it gives them a chance to get out and meet new people.
"They get a chance to interact with the community," Hollingsworth said.
When Chronis and other members of the Parks and Recreation staff aren't working with residents through the Adaptive Gym program, they are helping Community Living clients through the Adaptive Aquatics program.
Chronis explained that the Adaptive Aquatics program takes place one week a year. She noted that every August she sets aside a week, Monday through Thursday, when clients can come down and use the pool for an hour with one-on-one attention from local lifeguards.
"It's a great recreational experience," Chronis said.
She added that for those who attend the program it's a big deal.
Dawn Meyer, community support coordinator for Community Living, said this past August her agency sent 12 clients to the pool for the Adaptive Aquatics program.
"It's something they look forward to," Meyer said.
She added that not all of her agency's clients like the water, but she does have a few who will go and supervise from the edge.
But not only are the Adaptive Gym and Pool programs something for clients and residents to look forward to. Meyer said they are also programs that help promote exercise.
"It's a different way for them to get that," Meyer said.
Chronis explained that the program is one that the City of Grandview supports with help from United Way.
"United Way gives us funding every year that helps us provide programs like this," Chronis said.