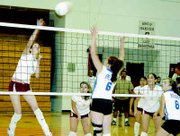 GRANDVIEW - The Grandview High School volleyball team secured an important win Tuesday night, pushing past the Ki-Be Bears in a three-game match.
The Lady Greyhounds were able to keep the Bears at arms length, winning by scores of 25-23, 25-18, 25-13.
"It was a fantastic win," said Grandview Coach John LaFever. "Ki-Be is one of the top teams in the league."
LaFever said his team (2-0, 6-1) looked good last night, noting that his players did well both defensively and with their passes.
"Our defense and passing were stellar," LaFever said.
The Lady 'Hounds started Tuesday night's match with a hard fought first game, putting away the Bears in the last few minutes of the match-up. But that was the only chance Grandview gave Ki-Be. The Lady 'Hounds quickly came together to walk away with the win.
Helping add to the Lady 'Hounds success were the team's defensive leaders. According to LaFever, senior Tonhya Wysong, sophomore Jessica Gonzalez, sophomore Kealey Johnston and junior Danika Martinez put away 97 digs between them.
On the other hand, LaFever noted that the team's offensive leaders managed to drive home 32 kills. Grandview's offensive leaders included Johnston, sophomore Raissa Licano, freshman Kinzi Poteet, freshman Sydney Mottice and sophomore Christine Penwell.
Also helping add to Grandview's success against the Bears was the team's setter, Chante Bottineau. The junior set up 36 assists and had 3 kills during the match.
LaFever added that Katie Veloz put in a good performance against Ki-Be.
"Katie Veloz did a great job as a serving specialist," LaFever said of the sophomore.