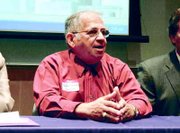 YAKIMA - Facing the ax due to federal budget constraints, a program preparing students for college not only received a second life, but six more years.
On Tuesday, local and state education officials gathered at Yakima Valley Community College to celebrate a six-year extension for the program, called Gaining Early Awareness and Readiness for Undergraduate Programs (GEAR UP).
Shawn Bills, a Central Washington representative for Sen. Patty Murray, said the lawmaker worked hard to preserve funding for GEAR UP.
"Senator Murray has been a major supporter for the program and she fought to put funds back in the federal budget for it," said Bills, who spoke on behalf of Murray during the meeting.
Tuesday's ceremony marked the second successive six-year term for the grant program. The original GEAR UP grant was awarded in 1999 and expires this year.
"The program has given an opportunity to young kids in our district to learn about college and university," said Ruben Carrera, Executive Director of Schools and Community for the Sunnyside School District. "Parents have received an insight on learning about college life and what it takes to succeed."
Carrera was one of about 20 officials on hand for Tuesday's celebration. At $2.2 million per year, GEAR UP targets students primarily in the Yakima Valley area. Some school districts in the Skagit Valley area also benefit from the program.
The new six-year program is titled "Two Valleys One Vision" in recognition of the two valleys served in the program.
The program will target sixth graders and follow them through their middle school and high school careers. Of the 2,000 sixth graders to be served by GEAR UP, 886 are from Lower Valley schools.
The grant, totalling $13.2 million over six years, is matched by an in-kind donation from the University of Washington and its partners.
Operated by the university's Office of Minority Affairs, GEAR UP will be a partnership with school districts providing volunteer mentors, using teachers as tutors and giving counselors the opportunity to visit the UW.
The program will begin with children in sixth and seventh grades in 12 public school districts and one tribal school, providing them intensive services and support for six years.
It offers professional development for the districts' teachers, before and after school tutoring, special summer and Saturday programs, mentoring, college planning and counseling, as well as family financial planning.
Though the University of Washington is at the heart of the program, Dr. Nancy "Rusty" Barceló, UW Vice President and Vice Provost for Minority Affairs and Diversity, said it's all about the kids.
"It would be nice to see them enroll at UW," Barceló said with a smile. "But it's not about that. It's about making sure students have a choice in the end."
Laughter filled the room when Carerra added, "Maybe they'll choose the other school, and I'm talking about Texas A&M, not WSU!"
Whatever the college initials, or allegiance, GEAR UP is about helping students from low income and minority families have the opportunity for a college education.
"We start working with sixth graders because even at that age so many of them don't think college is an option," said GEAR UP Program Director Loueta Johnson. "We want them to know college is an option they can choose and plan for. We know children have dreams and we want to give them the tools and practical experience to achieve those dreams."