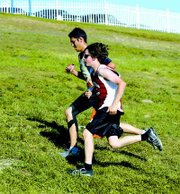 GRANGER - Danielle Raschko earned the top individual finish for the Bickleton High School cross country team at yesterday's five-school meet staged in Granger.
The Pirates were the lone class 'B' school at the meet, as the competition was a Valley 'A' meet.
Raschko placed fifth in the girls race, clocking a time of 24 minutes, 20 seconds on the relatively flat, 3.1-mile course. The girls race winner was Goldendale's Alysa Powers, who hit the tape in an impressive 18 minutes, 20 seconds.
Raschko was the lone girl from Bickleton to compete in Tuesday's race.
On the boys side, Bickleton eighth grader Junior Hernandez bested the six Pirate runners. He clocked a time of 18:24, good for sixth place individual honors.
Bickleton Coach Darrell Lang said Hernandez's 18:24 clocking was only tenth's of a second off his season opening time at the Prosser Invitational last Saturday.
Hernandez finished a minute and 32 seconds back of the winner, Royal City's Luke Tonnemaker, who clocked a race best 16:52.
Also earning a "Top 10" finish for Bickleton yesterday was Cody Loomis. He placed ninth with a personal best clocking of 18:50.
Also setting personal best times at Tuesday's meet were Bickleton's Tyler Jensen, the 18th place finisher in 21:33, and Jared Spalding, the 28th place finisher in 24:34.
The two other Bickleton runners who competed in Granger were Orion Yoesle, 22nd with a clocking of 22:17; and James Rasmussen, 27th with a clocking of 24:12.
The Pirate harriers are scheduled to compete at the Highland Cross Country Invitational in Cowiche this coming Saturday. Race time is slated for 10 a.m.