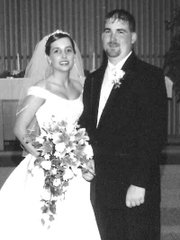 Kacy Jo Monroe and Glenn Fay Braman were united in marriage on June 25, 2005 at the United Methodist Church in Sunnyside.
The bride, the daughter of Tom and Diann Monroe of Sunnyside, walked down the aisle wearing a dress from Victoria's Bridal Collection. Her two-piece off the shoulder gown was made of roma satin and featured beading and an A-line skirt. The bride carried with her a bouquet of pink lilies with cascading white roses and ivy.
Accompanying the bride was her maid of honor, Kayla Monroe of Sunnyside. Attendants included Jennifer Golden of Sunnyside, Kristina Speer of Selah, Tommie Jo Adkison of Sunnyside and Nathan Anderson of Sunnyside.
The groom, the son of Clarence Braman of Ephrata and Carroll Williams of Fairfield, was accompanied at the altar by his best man, Rob Nubkins of Rosalia. Ushers included Josh Brooks of Morton, Saul Martinez of Sunnyside, Matt Horlacher of Lataha, Eric Berg of Sunnyside, Reid Schilperoort of Sunnyside and Luke Schilperoort of Sunnyside.
The flower girls for the ceremony were Sydney and Taylor Brooks of Morton. The ring bearer was Ryne Faris of Richland.
Following the wedding the couple gathered with family and friends for a reception at the Sunnyside Eagles lodge.
The bride is a 1999 graduate of Sunnyside High School and is currently attending Yakima Valley Community College studying for a degree in business. She is employed at Banner Bank.
The groom is a 1995 graduate of Liberty High School and is currently attending Heritage University, where he is pursuing a teaching degree. He is employed by the Sunnyside School District.
The couple is currently at home in Grandview and is planning a honeymoon on the Oregon coast in April 2006.
More like this story