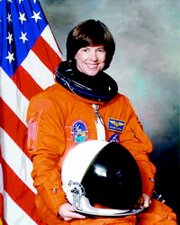 SEATTLE - The Museum of Flight on Wednesday announced the selection of NASA astronaut Dr. Bonnie Dunbar, Ph.D., as its new president and CEO.
Dunbar will replace current president and CEO Ralph Bufano, who has led the Museum since 1991. Dunbar's appointment is effective Oct. 3. Her selection followed a year-long national search process and was affirmed by a unanimous vote of the Executive Committee of the Museum's Board of Trustees yesterday.
"We were extremely gratified at the highly qualified pool of candidates who sought the Museum of Flight presidency," said board chairman Jim Johnson.
"In the end, however, our decision was rather easy. Dr. Dunbar was a clear standout in her passionate commitment to youth education, which is so central to our mission. She has a remarkable ability to use her own amazing experiences to inspire youth, and we are excited at the prospect of harnessing her intellect, energy and passion to our important work," Johnson said.
A native of nearby Outlook, Dunbar earned Bachelor's and Master's degrees in ceramic engineering from the University of Washington and a Doctorate in mechanical/biomedical engineering from the University of Houston. She held research and engineering positions with the Boeing Co., Harwell Laboratories and Rockwell International until 1978, when she joined NASA as a flight controller.
Two years later, in 1980, she was selected as a NASA mission specialist astronaut. A veteran of five space missions, Dunbar has logged 1,208 hours-more than 50 days-in orbit aboard the shuttles Atlantis, Challenger, Columbia and Endeavour.
Her most recent spaceflight was the STS-89 mission aboard Endeavour, Jan. 22-31, 1998. As payload commander on this mission, Dunbar was responsible for more than four tons of scientific equipment, supplies and water for delivery to the Russian space station Mir, as well as 23 scientific experiments aboard the shuttle.
Dunbar's final NASA assignment has been as Associate Director of Technology Integration and Risk Management at the Johnson Space Center's Space and Life Science Directorate. She will retire from the space agency effective Sept. 30.
From 1998 to 2003, Dunbar served as the Assistant Director for University Research and Affairs at Johnson Space Center. In this position, she was the focal point for the center's educational and grant programs, as well as its extensive collaborative efforts with colleges, universities and scientific and engineering organizations.
The coincidence between Dunbar's long-time professional interest in science, math, engineering and technology education and The Museum of Flight's mission commitment in these areas was the major reason she applied for the museum presidency.
"Part of the reason we honor the past," commented Dunbar, "is to inspire the future.
"The Museum of Flight has established a worldwide reputation for the depth of its commitment to education and the quality of its programs that use the wonder of flight to inspire learning.
"I am thrilled about becoming part of such a vibrant organization and look forward to contributing to its future success in preserving and interpreting the glorious past of aviation and space exploration while helping to inspire its even brighter future," she continued.
Dunbar has been honored by numerous professional societies and universities, as well as by NASA. She is also a recipient of The Museum of Flight's own Pathfinder Award, recognizing outstanding contributions to aviation or aerospace by individuals from the Northwest. In addition to her scientific accomplishments and space experience, Dunbar has been a licensed private pilot since the 1970s, and has logged more than 1,000 hours as co-pilot in NASA's T-38 jets. She owns and is restoring a 1946 Ercoupe light plane.
Dunbar's predecessor, Ralph Bufano, who retires after 14 years at the helm of the institution, has been designated as the Museum's first "president emeritus" by the Executive Committee of the Board of Trustees.
The independent, non-profit Museum of Flight is one of the largest air and space museums in the world. The Museum's collection includes more than 150 historically significant air- and spacecraft, as well as the Red Barn-the original manufacturing facility of the Boeing Co. The Museum's aeronautical library and archival holdings are the largest on the West Coast. More than 100,000 children are served annually by the Museum's on-site and outreach educational programs-the most extensive museum-based youth aviation and space education program in the country. The Museum of Flight is one of only 750 museums in the nation and nine in Washington state that are fully accredited by the American Association of Museums.