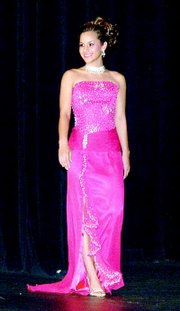 Before 2005-06 Miss Sunnyside Kerri Urrutia ever thought about walking away from last Saturday's pageant with a crown, she had to make a tough decision.
Every Miss Sunnyside candidate has to choose a commnity service project, which if crowned they work with during their reign.
Urrutia said this was a decision she thought long and hard about.
"I struggled for awhile," Urrutia said.
In the end, Urrutia chose to focus on the American Cancer Society.
"Cancer is a disease that has hit home in many people's lives," Urrutia said. She added that in her family it's a disease that has struck her grandmother and her aunt, noting that a family friend also was just diagnosed with cancer.
Urrutia said she and the rest of the court will be spending time during the coming year fund-raising and volunteering for the American Cancer Society. She noted that the court is required to spent 20 community service hours working for the charity, adding that during that time they will also likely raise money for the agency.
Urrutia, who has been Miss Sunnyside for just five days, said she is still trying to figure out unique ways to help raise funds for her charity.
"I'll have to get in contact with them and see," she said.
But, Urrutia has already set a fund-raising goal for the court. She said she would like to see the 2005-06 Miss Sunnyside court donate more than $1,000 to the American Cancer Society.
She added that although the court will be concentrating its fund-raising efforts this year on the American Cancer Society, she plans on working with the charities the other girls on the court chose, as well.
According to Urrutia, Miss Sunnyside Princesses Heather Van Corbach, Dianna Mendoza and Corrin Veiga want to work with the Sunnyside Parks and Recreation Department, the Latch Key program and the 21st Century program. Urrutia added that the court will likely dedicate volunteer hours to the three organizations.
Although Urrutia, who is the daughter of Steve and Julie Urrutia, has only been wearing the Miss Sunnyside crown for a short time, she said she is already getting a taste of just how busy her life is going to be over the course of the next 12 months.
Urrutia is not only Miss Sunnyside, but she is also involved in Link Crew, Pep Club, Key Club and Running Start. She also plays volleyball and basketball for the Grizzlies.
"It's going to be a challenge, but I'm ready," Urrutia said of juggling all of her activities.
Urrutia's first juggling act will come this Saturday. She said the new court will be taking part in Yakima's SunFair Parade on Saturday morning. Then, immediately after the parade, she will hop into a car and drive to Hanford for a volleyball match that afternoon.
Despite the busy schedule, Urrutia said she is looking forward to the coming year, adding that she wants to serve as a good role model for the entire community.
"I hope to be a good role model, not only for young people, but for older people and people my own age," Urrutia said.