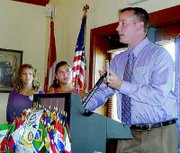 Programs to retain eighth graders entering high school and to help prepare students for college were the focus of a presentation at the Sunnyside Noon Rotary meeting earlier this week.
Ryan Maxwell, Assistant Principal at Sunnyside High School, presented the program to about 30 Rotarians assembled for the luncheon meeting.
"This year we began the Grizzly Success Academy for incoming freshmen," Maxwell said. "The ages between 14 and 16 is when kids drop out. We created Grizzly Success Academy to offset that."
Maxwell said 70 of the 400 or so incoming freshmen participated in the academy, which took place two weeks before the school year began.
The assistant principal went on to talk about what is being done locally to give high school students a jump start on their college careers.
Sunnyside High School seniors Maria Ramos - Miss Cinco de Mayo - and Christy Linde joined Maxwell in praising the district's Advanced Placement courses. The Advanced Placement program offers college-level course work for high school students.
Upon successful completion, the classes can be transferred as credits to any university in the state of Washington. Sunnyside High School offers nine Advanced Placement courses. Maxwell said about one in seven students currently participate.
Linde praised the program as a help towards her goal of some day achieving a Master's degree.
Ramos came to the U.S. at the age of four when her family moved from Mexico. She noted that Advanced Placement courses have provided a much-needed challenge and have helped her with organizational skills.
The Rotary presentation came to a close on an emotional note as Maxwell described how Advanced Placement has changed Ramos' life goals.
"Two years ago she told me she wanted to be a cosmetologist because that's what her parents thought she could be," Maxwell said, fighting back tears. "Now she says she wants to go to Harvard and become a politician to help Mexico."