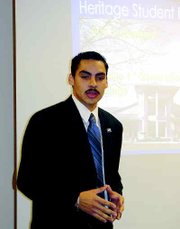 There is a group of Heritage University students who are working hard to ensure that life in the Yakima Valley changes.
Students in Free Enterprise, or SIFE, have spent the last two years working on projects throughout the Valley that promote everything from financial awareness to alternative crops.
Wednesday morning, the Heritage University SIFE group took time to talk to members of the Sunnyside Daybreak Rotary Club about everything they do.
SIFE advisor and Heritage University professor Len Black noted that the local team is currently ranked in the top 10 percent of the SIFE groups in the United States. He added that in the past two years the group has defeated teams from colleges such as Washington State University and Brigham Young University to make it to the national SIFE competition.
"Obviously I'm pretty proud of my students," Black said.
SIFE President Gerardo Ruelas told the Rotarians that the group's number one goal is to educate people and empower them to reach their dreams.
Ruelas said the group has had quite a bit of success in the short time it's been together. He noted that in the past two years the club itself has jumped from having eight members to more than 45.
But that isn't the only success SIFE has had in the Yakima Valley. The group has also touched people's lives.
SIFE member Gary Pierce took time to talk about an alternative land use project the group spearheaded. He said the project, which focuses on growing purple specialty potatoes, is currently in its third phase. A part of that third phase has been selling the potatoes to area consumers. Pierce noted that the potatoes being grown for the project are currently being sold at Costco.
Another project the local SIFE team has been working on is the Moonjar project. SIFE member Ricardo Guadarrama explained that the project helps teach young children about financial responsibility.
Through the use of a three-compartment box, third grade students throughout the Yakima Valley are learning the importance of spending, sharing and saving money.
"It increases awareness of how to meet financial goals," Guadarrama said of the project. He added that SIFE students are currently getting ready to introduce the jars to students in the Sunnyside School District.
The Moonjar project isn't the only way SIFE students are getting out to teach people about financial awareness. The group has also organized various financial management seminars and workshops for everyone from high school students to monolingual Spanish speakers.
Another way SIFE is reaching out to the community is through an ethics program it put together for the Yakima Valley GEAR-UP program.
Guadarrama noted that the program helps teach children the importance of ethics both in business and in everyday life. He added that it's an interactive program that has proven to be successful.