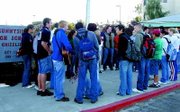 A prayer vigil was held Wednesday morning, as about 30 Sunnyside High School students gathered around the school's flag pole for the annual "See You at the Pole" event.
The grassroots movement originated in Texas in 1990 and has become a tradition for students nationwide on the third Wednesday of each September.
A 1998 Sunnyside graduate, Rev. Sean Witherspoon of the Neighborhood Church Assembly of God, said he participated in the prayer event throughout his high school years.
"It's a time when students gather around and pray for their schools and the nation," Witherspoon said.
He said the prayer movement meets restrictions handed down by court decisions regarding prayer in public schools.
"It's legal as long as students are the ones organizing it and as long as it doesn't interfere with the school schedule," Witherspoon said.
"Meet You at the Pole" gatherings begin at 7 a.m., well before the school day begins.
"It's a blessing," Sunnyside senior Meghan Grubenhoff said of the public prayer meeting. "It's a chance to show others that we're here for a greater purpose."
Added junior Brandon Zacher, "This is a show of faith, of who we are and that we care about the school."