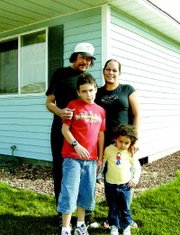 Watching Elena Hazle sit outside on her front steps and play with her children, she looks like a typical mother, outside enjoying the warm fall weather.
But an action as simple as opening the front door to the Sunnyside Ismo Loop home reveals that Hazle and her young family aren't your average Sunnyside family.
The living room of the home is devoid of furniture and the kitchen cabinets hold only the necessities.
Hazle and her family were in Gulfport, Miss. when Hurricane Katrina roared through, destroying their home and most of their possessions, leading the family to seek shelter far away from the storm ravaged Gulf coast.
Talking to Hazle you would never guess what the native New Yorker has been through in the past few weeks. She seems strong and ready to get her new life on track, but just a few short weeks ago Hazle's life wasn't quite as sure footed as it is now.
Hazle, who was in the Navy, had just returned to the United States in mid-August, after having been deployed in Spain. She said it was just about time for her enlistment to be up and she was spending her last few weeks with her fiancé, Luis Alvarez, who is also in the Navy, at the CB Base in Gulfport.
The couple was living in base housing with Hazle's disabled father and their two children.
"We were going to stay in Gulfport and raise our family there," Hazle said. "We were just getting ready to buy a house."
At the same time they learned of the tropical storm building up momentum in the Atlantic Ocean.
"We heard a storm was coming," Hazle said.
She said her family was given the opportunity to evacuate before the storm hit, but with her father being hearing impaired and both she and her fiancé having to stay behind to help evacuation was not an option.
Hazle said instead of evacuating she went to her home and collected things she knew would be irreplaceable. She said she took things like birth certificates and immunization records.
"The things we'd need to get around," Hazle explained.
Then the small family took shelter in a large warehouse on the base with roughly 2,000 to 3,000 other people, where they weathered the category four hurricane.
Hazle said once the storm passed and she was allowed to leave the shelter she was surprised by what she saw.
"Everyone was gone," she said.
Upon returning to her house, Hazle said there was nothing salvageable in the wreckage.
"It's horrible," Hazle said. "The pictures on TV don't show the real damage."
Hazle said she spent the next three weeks living in the warehouse. She said she and her fiancé would spend the day going out and clearing roads and cleaning up from the storm, while her father stayed behind and watched the children.
"We were cleaning up trees and debris, making it safe for people to get through," Hazle said of the work she was doing.
Then after three weeks in the shelter her family was given the opportunity to evacuate. She said the military allowed those whose homes had been destroyed by the storm to relocate.
Hazle said she and her fiancé decided to relocate to Sunnyside because this is where her fiancé's family is situated.
When it came time to relocate, Hazle said her family flew out west ahead of her. She said the military had to get her paperwork together before she could make the long trek to Washington. Hazle finally arrived in Sunnyside on Sept. 19.
She said she and her fiancé drove from Mississippi to Sunnyside. Hazle said the devastation from the storm can be seen for miles. She said things didn't start to look normal until the couple had reached northern Louisiana.
She added that as they drove through the storm ravaged Gulf coast they saw nothing but long lines and people trying to get out.
"There are still no services in a lot of areas," she said.
Hazle said despite the large number of people trying to get our of the Gulf Coast area, there are still a lot of people who are staying.
"There are so many people there still who can't afford to go anywhere else," Hazle said.
Since arriving in Sunnyside, Hazle said she has been hard at work trying to assemble a life for her family. She said she enrolled her nine-year-old son in school, managed to find a house to rent and has been busy trying to find a job.
"Everybody has been really helpful," Hazle said.
But Hazle is going about starting her life in Sunnyside without her fiancé by her side. Hazle said Alvarez is already back in Mississippi, getting ready for the next storm, Hurricane Rita. She explained that Alvarez is still in the Navy, and even if the latest hurricane misses Gulfport her fiancé will be sent out to the areas affected by the storm to help.
But looking at Hazle you would never guess that she has been through so much in the course of the past month. Instead, she appears to be a strong mother, who is looking to create what every mother wants to create for their children - a better place to live and grow up.
"We're keeping the kids in a better environment," Hazle said. "They're not living in a warehouse, where they couldn't even go outside and play. There was nothing."