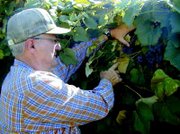 It's now late September, when autumn leaves put on their colorful best and there's a crisp chill in the night air.
It's also the time when farmers cross their fingers, and hope for rain or enough irrigation water to see them through the October harvest.
Nowhere is that more true than right here in the Lower Valley, where farmers in the Roza and Sunnyside Valley Irrigation (SVID) Districts are ekeing out all the water they can.
"The challenge is that this is a drought year," noted Don Schramm, SVID Assistant Manager of Operations. "We don't know what's going to happen in October. We'll run through the first week of October with the hope that service can be extended to near the normal shut-off date of Oct. 20."
Schramm added, "If we don't get enough rains then October will be a tough month." SVID's service area ranges from the community of Parker, just below Union Gap, to Benton City.
Over at Roza, a junior water rights holder, they're just hoping to make it through this month. While SVID retains most of its irrigation water due to its senior water rights status, Roza had to go shopping just to keep irrigators afloat this summer.
"We spent $3 million for a water transfer from Sunnyside Irrigation," said Tom Monroe, Operations Manager for Roza. "We're looking at that to get us to Sept. 30, and beyond that we don't know."
Further, Roza voluntarily shut off its water for three weeks in April to ensure a steady irrigation water supply through the summer.
If Roza's water turns off at the end of this month it would be three weeks earlier than the customary shut-off date of Oct. 20.
Monroe said firmer answers on whether Roza will have irrigation water for October should come at a district meeting set for Monday, Sept. 26.
Roza received $1.5 million in water emergency grants from a state drought fund. That paid half of the water purchase to get Roza through this summer.
Still, Monroe is hoping for a wetter year in 2006.
"We hit our reserves pretty hard this year. Two years in a row would be tough," he said of Roza, which ranges from East Selah to near Benton City.
The Bureau of Reclamation's decision on allotment - and duration - of irrigation water supply comes down to mathematics, Schramm noted.
Figures plugged into the equation include how much flow will enter the Yakima River basin for the year, how much water is diverted back into the system and how much remains in storage.
Figuring out the total water supply is only part of the arithmetic, as water is apportioned based on a system of junior and senior water right holders.
SVID, for example, is among those with senior rights and, even in 2005's drought, received 80 percent of its usual portion. Some junior rights, on the other hand, can see their allotment be 50 percent or less of their usual amount.
Farmers in both Roza and SVID performed some math of their own this summer, deciding which acreage to grow and which to leave dormant.
SVID irrigation farmer Neal Combelic, for example, planted half of the alfalfa he usually grows on his 140 acres off of Emerald Road.
"I've got to do whatever I can to stretch the water. You can't plant something, then harvest nothing," he noted.
"You just say, 'Okay, what can I do to lose the least amount of money this year,'" observed Arnold Martin, a Roza irrigator who farms near SLI Road off of Highway 241.
Martin estimates that he's still recovering from the 2001 drought and says a drought like this year's ends up costing everyone more money - from the producer all the way to the consumer.
At Martin's farm alone, there are three fewer hired hands this summer. "That's three jobs lost for this year," he said.
"Things now are at least better than shutting off the water at the first of September, like they thought earlier," Martin said. As noted previously, Roza escaped that scenario by paying $3 million for a one-time water transfer.
"For crops like grapes and hay you want some moisture going into winter because dry freezes are hard on them," he said of the importance of fall watering.
A third-generation farmer, Martin has 515 acres available to him but is farming only 315 to make the drought-shortened irrigation season last.
His crops include grapes, hay, native spearment and sileage corn.
If, as expected, irrigation water shuts off three weeks early at the end of this month, Martin said he could still water 70 of his acres with an on-site well. But that only represents water to less than a fourth of the acreage he is farming this year.
Martin figures he will get in most of his hay and corn before the irrigation water runs dry. "It will be right close," he says.
But he's not so sure about his Concord and Niagra grapes.
"Our grapes will probably be harvested the first part of October," he said while inspecting the orderly arbors. "Some grapes will be off (before irrigation ends) but some will not."
Monroe added that what farmers such as Martin and Combelic face now is a waiting game. A hope that fall rains and Bureau of Reclamation calculations made this past spring and summer can see them through.
"It's not like they can bring in their crops early while there's still water," Monroe observed. "They can't harvest the crop until it's ready, so they just have to wait and hope."
&nbsp