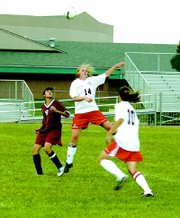 In a case of "what might have been," the Sunnyside girls soccer team had two goals called back in a 2-1 home loss to Highland on Thursday night.
"It didn't matter what we did, the win was just not meant to be," observed Coach Kathy Jolliff. "We out shot Highland by a two-to-one margin, but just couldn't get the goals."
Highland took the lead for good with a goal in the 12th minute to go up 1-0. The margin lasted through the first half and the Scotties built their advantage to 2-0 on a goal in the 49th minute.
The Lady Grizzlies battled in the second half before Yanet Candido made it a 2-1 game on a penalty kick in the 69th minute. Sunnyside scored twice more in the second half, only to have both goals called back.
"My players were trying hard to rally in the second half, but we still made mistakes both defensively and offensively that cost us the game," Jolliff added.
Sunnyside (2-2, 2-5) is home again this Saturday to play Hanford at noon for a Mid-Valley League match.