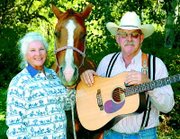 PASCO - Enjoy an afternoon and evening of music and poetry of cowboys of the west in a beautiful outdoor park setting!
Sacajawea State Park in Pasco is the site of a Cowboy Poetry & Music Festival this Saturday, Sept. 24. This event is part of a five-month Arts & Trails series of traditional arts events that are taking place in Washington state parks along the Lewis & Clark Trail. This project is presented by Northwest Folklife in collaboration with the Washington State Parks and Recreation Commission.
The festival will run from 3 to 9 p.m. and features several cowboy musicians and poets, all who live in Eastern Washington.
First to perform will be Dick Warwick, who was born and raised in the Palouse Hills region. He has been involved with livestock and farming his whole life and is the fourth generation of his family to farm and ranch in the Palouse. Warwick has been a featured poet at the National Cowboy Poetry Gathering in Elko, Nev, and many other cowboy events in the west. He's also made the journey to Australia, where he drove combines and performed at the National Folk Festival in Canberra and the Man From Snowy River Bush Festival.
Warwick will be followed by Northfork, consisting of Sharon Glenn and George Thomsen. They are both well known cowboy, western and old-time performers from the Ahtanum North Fork, above the Yakima Valley. Glenn is a cowgirl poet who writes about the day-to-day life of working with livestock and sings traditional cowboy songs from her family's vast repertoire. Her partner, who accompanies them both on guitar, writes music of the cattle, the land and the ranch life. Like Warwick, Sharon and George have also been featured performers at the National Cowboy Poetry Gathering in Elko and many other regional cowboy events.
Also performing tomorrow is a musician local to the Tri-Cities, Justin Booher of Kennewick. Earlier this summer, he won first place in the Young Adult (18-36) Division of the National Oldtime Fiddle Contest in Weiser, Idaho. In addition to his highly skilled fiddle playing, Booher plays just about any instrument with strings and runs his own Columbia Music School in Kennewick, where he teaches many private students.
Closing out the program will be Mexican American cowboy singer Bodie Dominguez from Clarkston. Dominguez has made a career of performing music throughout the western U.S. For the past four years he has performed with the Academy of Western Artists & Western Music Association in Vegas-Ft. Worth-Santa Clarita (on a Gene Autry movie set), and was nominated for three AWA music awards this year. Dominguez is President of the Christian Cowboy Balladeers and hosts The Western Heritage Radio Show on KRLC. His performances feature a mixture of traditional cowboy and western music and Mexican ranchera song.
The Cowboy Poetry and Music Festival is the last program in the Arts and Trails series, twenty-four cultural programs in Washington state parks along the Lewis and Clark National Historic Trail held in conjunction with the Lewis and Clark Bicentennial and presented by Northwest Folklife of Seattle and the Folk and Traditional Arts Program of the Washington State Parks and Recreation Commission.