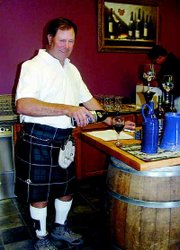 PROSSER - "We've been growing wine grapes for 10 years, so we decided to see what it's like," said Susan Cowan of Cowan Vineyards, which held its grand opening in Prosser this past Saturday.
Susan and husband David opened their winery in April of this year in preparation for the grand opening. They continue their grape growing business, as well, in north Grandview.
The grand opening also served as an introduction for the release of Cowan's 2003 Tartan Red and 2003 Merlot.
David described Cowan wines as "fruit forward," meaning that fruit is more noticeable. "There are a lot of wines that are so big," he added. "We wanted ours to be more subtle."
Not only are the Cowans experiencing the wine producing side of grape growing, their new venture also reflects family heritage.
Cowan, a name of Scottish ancestry, is on the label of every bottle along with the tartan belonging to the Cowan clan. The Scottish connection was highlighted further during the grand opening, as David greeted visitors in a traditional kilt.
"It's a lot of fun," Susan said of offering wine from their very own grapes. "We're getting to see the public's response to what we've been growing all these years!"
Cowan Vineyards, located at 2880 Lee Road, Suite E, is open Thursday through Monday from 10 a.m. to 5 p.m.