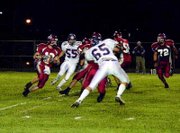 GRANDVIEW - Ellensburg and Grandview played a football game Friday night - and a chess match broke out.
The dogfight between the Bulldogs and host Greyhounds proved physical, certainly, but who would have thought Grandview's 13-6 loss would be a game of cat and mouse?
"They're a big, physical team and I knew it would be tough," said Grandview Coach Dustin Lamb.
How tough?
The 'Hounds ran and passed between the 20's well enough, waltzing up and down the field like a marching band in hip pads.
But the end zone might as well have been sealed with Saran Wrap, as one Greyhound drive after another came up empty-handed.
"We had our opportunities," Lamb said. "We'd go up and down the field, then stall."
Ellensburg had something do with that, as Bulldog Head Coach Randy Affholter got the better of the chess match on three occasions by blitzing.
Trailing 7-6 at halftime, Grandview drove to the Ellensburg 20-yard-line twice in the third quarter only to have 'Hound quarterback Brandon Artz sacked on third down.
The third sack of Grandview's "King" came with just under five minutes to play in the game.
Following an Ellensburg touchdown and missed extra point to make it a 13-6 game, Lamb had his offense mix runs up the gut and play action passing down the sideline to drive to the Bulldog-25.
That's when Affholter called check-mate.
His defense gambled, blitzing on third-and-long to sack Artz for a 15-yard loss and recover what proved to be a game-clinching fumble.
The larger Ellensburg line took care of matters from there, running out the clock by springing senior running back Josh Kopcynski for one gain after another.
"Our defense did a great job but they were out there too long tonight," Lamb noted. Indeed, 145 of Kopcynski's 215 yards rushing came in the second half of play against a tiring defense.
Yet, they kept Ellensburg at bay for much of the game. Grandview stopped the Bulldogs just inches from the goal line late in the game, and late in the first half broke up not one, but two, Ellensburg scoring chances deep in 'Hound territory.
On the other hand, the Bulldogs guessed right on defense often enough to keep Grandview off-balance on key second half drives.
Lamb went to his own bag of tricks as well, with quarterback option plays and a reverse to loosen up Ellensburg's defense in the second quarter.
"We had to do that to spread the field," Lamb said.
The strategy paid off as Grandview, trailing 7-0 after one quarter, hit the Bulldogs with pass after pass to open the second stanza. That set the stage for J.R. Camacho's 44-yard touchdown scamper with 3:30 to play in the half.
The kicking game - which muffed a punt for a key Connell score last week - again struggled. The point after kick attempt was missed, leaving Ellensburg in front 7-6 at halftime.
A chip-shot field goal attempt from 24 yards out - which would have put Grandview in front - was blocked in the third quarter.
"We'll keep working on the kicking game and our punt drills in practice," Lamb said.
There were other near misses for the 'Hounds.
Artz, for example, just missed hooking up with a receiver in the end zone for a late first half touchdown. Grandview also let a possible 99-yard touchdown toss - or at least a big gainer to mid-field - slip through their fingers midway through the fourth.
The loss was disappointing for Lamb's team, to be sure, but the second-year coach hopes to keep his players focused on the big picture.
"I told the guys this is a marathon, not a sprint," Lamb said. "Just look at Othello last year, they finished third in league and were state champs."
Speaking of Othello, Grandview (2-1, 2-2) travels this Friday to play the defending state 2A champs in a key CWAC contest.
Statistics
Passing:
Grandview - Artz 11-26-86
Ellensburg - Affholter 8-14-120 two touchdowns, one interception
Rushing:
Grandview - Camacho 15-118 one touchdown, Vela 4-33, Artz 9-minus 10.
Ellensburg - Kopcynski 34-215, Yarwood 4-12, Affholter 7-10, Yarwood 1-5.
Receiving:
Grandview - Guillen 3-15, Chester 2-21, K. Concienne 2-13, Vela 1-28, Perez 1-8.
Ellensburg - Cooper 3-37, Yarwood 2-14 one touchdown, Roth 1-37 one touchdown, Ferrell 1-14, Gage 1-18.