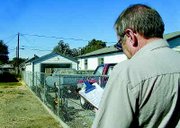 "My name is Bob and I chase burn barrels," so began my ride-along last week with "Burn Barrel" Bob West of the Yakima Regional Clean Air Authority.
West not only chases down rogue burn barrels - they are illegal statewide - but complaints related to all forms of air pollution.
I joined Bob the other day as he responded to complaints in the Lower Valley ranging from a man doing auto body painting outside his Sunnyside home to dust and dirt generated by a construction project along Mabton-Sunnyside Road.
"I like to stay under the radar and not let people know we're coming," Bob said as we stealthily made our way around highways, byways and back roads. Some byways were so out of the way he had to pull out his trusty map.
He said there are 5,000 to 10,000 burn barrels still active in Yakima County. The Clean Air Authority receives so many complaints, Bob added, that they generally have just enough time and resources to respond to those, let alone impromptu drive-bys to check for violators.
"Of course, if I see something while I'm responding to a complaint I'll stop and check it out," Bob said as he spotted a burn barrel in a Mabton neighborhood, then slowed to see if it was still in use.
He said the Clean Air Authority's goal is not writing out letters or citations, but educating the public on what is and isn't legal.
"We're probably the least confrontational agency out there," Bob said.
One program in place now accepts empty burn barrels at Yakima's Cheyne or Terrace Heights Landfills for free in exchange for Big Mac sandwiches. For more on that program, in place until Nov. 30, call 1-800-540-6950.
At the same time, the Clean Air Authority can, and does, fine violators. Bob said the auto body painter in Sunnyside, for example, could be looking at a fine of $2,000 to $4,000 per occurrence.
"I'm not sure which is worse - outdoor burning or painting because the paint gets into everything and people breathe in the fumes," Bob noted.
Most of the time those in violation of outdoor burn rules - outdoor burning is illegal in Sunnyside and Grandview, for example - are ready to comply.
"But there is that element that the only thing which they understand is a financial penalty," he added.
He has been threatened on a few occasions. "I'm not dumb, when that happens I just back off and send them a letter," Bob said.
Bob's been chasing burn barrels for seven years, and he keeps after it for a personal reason.
"I have asthma and outdoor pollutants really irritate it," he said. The cause is even more personal for one of Bob's colleagues, who lost a child last year due to asthma aggravated by outdoor burning.
So, what's the matter with outdoor burning?
Particulate matter, Bob will tell you. Individual particulate matter is too small to be seen, but when grouped together in millions it forms smoke which is visible and can cause health problems.
"What's really bad are the smaller particulate matter which passes straight through your nasal hairs and can really cause problems when they get embedded in the trachea and lungs," he explained.
The Clean Air Authority has placed a monitoring device on the roof of Harrison Middle School to keep track of larger particulates. "We change the filter on it every six days," Bob said. "Hopefully, we'll be able to add a monitor for the smaller particulates."
Have a particular particulate that's causing concern? Concerned about smoke, dust or paint?
If so, "Burn Barrel" Bob and his colleagues make regular road trips to the Lower Valley from their office in Yakima. They can be reached at 1-800-540-6950.
"As far as out-of-pocket expenses are concerned, burning is probably the least expensive way to get rid of something," Bob observed as our road trip ended. "But if you figure in the social cost in terms of illness and pollution, then burning costs the most by far."