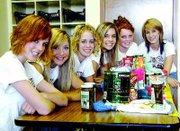 "We've been blessed with so much, we just want to help however we can," said Sunnyside Christian High School student Juliana Erickson.
She is one of nine cheerleaders at the school conducting a canned food drive this week for Hurricane Katrina relief.
Cheer advisor Lori Gardner said the girls came up with the idea when they saw a Daily Sun News story about the truckloads of relief help heading out each Friday from the Puterbaugh's hop farm in Mabton.
Gardner said the cheerleaders are accepting canned goods this week, as well as other non-perishables such as bottled water and clothing. Even teddy bears are welcome.
"Whatever the people lost we want to help replace," said SCHS cheer team captain Katie Schneider.
The girls have set a goal of 500 cans of food for the relief effort. This Friday the cheer team will deliver what it collects to the Puterbaughs in time for the next load to Louisiana.
Gardner said items can be dropped off at Sunnyside Christian High School Monday through Friday from 8 a.m. to 3 p.m. The high school is located at 1820 Sheller Road.