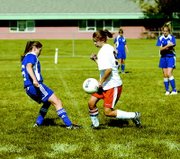 A shorthanded Sunnyside girls soccer team was no match against league leading Hanford last Saturday in a 9-0 home loss.
The Lady Grizzlies fielded a team of just four seniors with the remainder being sophomores and freshmen. Coach Kathy Jolliff attributed the lack of depth to injuries and some scheduling conflicts.
"We played tough but our lack of experience took a toll against Hanford," Jolliff said.
The guests scored in the fifth minute on the way to a 6-0 halftime lead to put the game away early.
The injury bug struck Sunnyside yet again when, in the second half, keeper Amanda Williams went down with a jaw injury after defending against a Hanford goal attempt.
"Yanet Candido finished the game as goalie for us," Jolliff said. "Hopefully this week we can get rested and be ready to go."
The Lady Grizzlies (2-3, 2-6) travel to Prosser on Tuesday before returning home on Thursday to play Grandview.