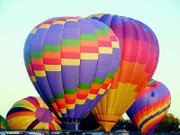 PROSSER - More than 30 hot air balloons turned out for this past weekend's 16th annual Great Prosser Balloon Rally.
"This is the best one yet," said organizer Kelly Carlson. "It's such a successful event year-in and year-out because the community is so behind it."
The community spirit - and participation - was evident Saturday night for the annual night glow. A capacity crowd filled Prosser's Art Fiker Stadium to witness the balloons fill the evening air with color.
The event was of particular meaning to balloonist Jerry Gobet of Canby, Ore.
"This is where it all began for us 15 years ago," Jerry said of his start in hot air ballooning. "We go to a lot of rallies, but this one is really special to us."
On Sunday morning the balloonists took to the air, departing from Prosser Airport and gently floated over the town and the Yakima River.
But last weekend was more than just taking to the air, as chalk artists young and old participated in the fifth annual Prosser Street Painting Festival.
"It provides an attraction to keep people in town during the day," said festival organizer Barbara Bolick. "We have over 40 artists this year."
For some of the artists it was a chance to try a new art form. For others, like Donna Baumgartner of Benton City, street painting was an opportunity to reflect on a work in progress. "This is a miniature of a tile mural I'm doing for Benton City," she said of her celebratory sketch.
As with the balloons blowing out of town over the weekend, the chalk art, too, comes and goes in preparation for next year.
"I guess it's a statement on the fleeting nature of art," Bolick said of the chalk sketchings which were washed away by Monday. "At the same time, since people know the art is only temporary it gets them out to see it while it's still here."