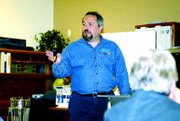 Most people, through the years, start to accumulate a fair amount of junk, knick knacks, and other treasures, making it increasingly more difficult to store all of it.
People put their stuff in storage units, or have yard sales. But in today's modern world, many are turning to eBay.
If you're unfamiliar with eBay, don't worry. Kevin Boyd, an eBay instructor, came to town yesterday to teach techniques used by eBay sellers. He conducted an eBay class, sponsored by the Sunnyside Recreation Department.
First you might ask yourself, why sell on eBay?
eBay is a ready made market. There are 157 million registered users with more than 50,000 categories. $84,000 worth of products are sold on eBay every minute.
So how do you get started selling on eBay? First you will need a computer. Without one you have no access to eBay. Second, you will need a digital camera. A person could get away with a regular camera but things could get expensive. The person would have to have the pictures put on a disk so they could be downloaded onto the computer.
The third thing you will need is product to sell. This could be anything. Kevin Boyd actually took some computer software out of his garbage and sold it on eBay for $120.
"I sold some investing software with the books it came with," Boyd said. "I later sold some similar software without the books for another $80. In one week I made $200 on products that were literally taken out of my garbage can," he added.
After you get your computer and want to get started, go to the www.ebay.com website to register. Once you're at the website you want to click on the 'register now' button. Here you will need to create a user ID and a password.
Once you've created your user ID and password you need to click on the 'sell your item' icon. Then click on 'create a seller's account'.
Here you will have to fill out an on-line form. You will be asked very personal information like your birthdate, address and phone number, bank routing number and either a credit or debit card number.
The last step to registering is to pick a payment option. You will have to pay eBay to sell on their web site, and they offer you a couple of ways to do this.
Boyd said once an account has been established, research is very important. You must research how much you want to charge for your product. You have to research to see which category your product will go into. If you want to be successful at selling on eBay, said Boyd, you must research as much as possible.
So now you've picked what you're going to sell, you've researched the prices and you also know which category your product is going into. It's now time to take a picture of your product to put on eBay.
Boyd has some great advice for taking pictures. "When you take the picture, take it like there will be no description to go along with it," he said. "When you describe your product, describe it like there will no be a picture to go along with it."
Now you will need to descriptive title to attract people to your product. Try to use as many searchable key words as possible. If you're selling music CDs you wouldn't want to just put CDs. A better title would be CDs Rock Punk Music. You might even want to put in some names of the bands whose CDs you are selling.
After you have all of this, plus you have researched and picked a price, your product is ready to go to auction. Boyd did have some tips for times to avoid having an auction. These times are:
•tax week
•back to school week
•holiday weekends (except Thanksgiving)
•month of July is slow
•Fridays are slow (don't end auctions on Friday)
•special national/world events (Super Bowl, Olympics)
Method of payment to you is also very important. Some use paypal, an on-line payment method that will deposit money into your account. Others take money orders, cashier checks and personal checks. It's really up to you.
One more small piece of advice Boyd has-before you start selling on eBay you should open up a separate bank account for your eBay profits. You should also open up a separate e-mail account so your current e-mail doesn't get flooded.
Well, there you have it. All of the steps necessary to go out and start selling on eBay.
But remember, research everything.
More like this story