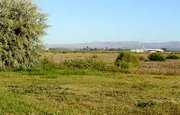 The future of a proposed Aho subdivision is still up in the air.
Early last week, the City of Sunnyside issued a mitigated determination of non-significance for a SEPA filed for 46 acres of property located at the intersection of Highway 241 and Factory Road. The property is in the process of being annexed by the City of Sunnyside.
Jamey Ayling, Sunnyside City Planner, explained that the annexation includes three lots. He added that the annexation was something that was started by Aho Construction and the Bonny family. The Bonny family owns 40 acres of the property being annexed.
Ayling added that conducting a SEPA is standard procedure for any property being annexed into the city.
According to Ayling, the annexation was first considered because Aho Construction was interested in putting a new subdivision on the 40 acres owned by the Bonnys. Ayling said when the annexation request came before the Sunnyside Planning Commission this past June, Aho Construction was requesting that the property be annexed into the city with an R-3 zone. An R-3 zone allows for high-density residential development, which includes duplexes, apartments and houses.
Ayling said an R-3 zone would have allowed Aho Construction to build homes with a smaller floor plan.
Despite the request from Aho Construction, Ayling said the planning commission forwarded the annexation request to the Yakima County Boundary Review Board with a suggested M-1 zoning. An M-1 zone allows for light industrial development. According to Ayling, most of the property surrounding the 46 acres being annexed is currently zoned for light industrial development. A decision by the Boundary Review Board is expected by Oct. 27.
Although the planning commission suggested a light industrial zone be placed on the Bonny property, Tom Arrowsmith with Aho Construction is still optimistic about the possibility of a subdivision being placed on the 40 acres of land just east of Sunnyside.
"Yes, Aho is still interested," Arrowsmith said.
According to Arrowsmith, the final decision as to the future fate of the Bonny property lies in the hands of the Sunnyside City Council. Arrowsmith said although the planning commission recommended an M-1 zone for the property, the Council could still decide to move forward with an R-3 zone.
Arrowsmith said if the Council approves the annexation as recommended by the planning commission, a residential subdivision won't work.
"It depends on council," Arrowsmith said.
Arrowsmith said he can't say how many lots the proposed subdivision would include, noting that the company will not look further into that until it is determined whether or not it will be able to move forward with the project.
Arrowsmith said the property is attractive to Aho Construction because of the access the land has to Interstate 82.
"It's a good location," Arrowsmith said. "It has good access all the way around it."