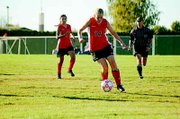 PROSSER - A new coach and new strategy helped make the difference as Prosser escaped with a 1-0 win over Sunnyside in Mid-Valley League soccer action Tuesday night.
"They played a little different, which was to be expected because they have a new coach," Sunnyside Coach Kathy Jolliff noted of Prosser's attack. "Unlike other sports, soccer doesn't give you any timeouts to adjust your team based on what you see the other team doing."
That resulted in an unbalanced line-up for Sunnyside and the host Mustangs took advantage with the game's only goal on a Jordan Brown score in the ninth minute of play.
Prosser's speed in the front line kept pressure on the Lady Grizzlies throughout the first half. But Sunnyside keeper Amanda Williams shut the door after the first score. "Amanda had a great game, she really kept us in it with her saves in the first half," Jolliff said.
The second half was scoreless, though Sunnyside had more shots on goal than Prosser.
"We played a better second half but just couldn't find the back of the net," said Jolliff
Sunnyside (2-4, 2-7) is home again this Thursday against Grandview.