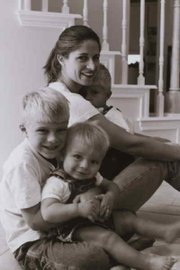 Last Friday, Russell and Jacqueline Hazen anxiously waited out Hurricane Rita from their home in Sunnyside.
Their daughter, Theresa Kajah, son-in-law, Tovio Kajah, and three grandchildren, Morgan, Erikk and Gerrit, live in Cypress, Texas, which was in the path of the category five storm.
"They were told to evacuate if possible, if not, they were to find a secure place in their home, stock it with supplies, and wait it out," Jacqueline Hazen said.
The presiding elder of their congregation told them to write down their names, social security numbers and the names and numbers of their next of kin in case something happened to them or they decided to leave, Hazen said.
"Close to 2,600 people are unaccounted for from Hurricane Katrina and they were hoping to avoid some of the confusion this time around," she added.
Theresa and her family tried to get airline tickets to Washington state but it was too expensive.
"The airlines wanted $5,000 for a family of five going one-way," Hazen said. "It was out of the question."
Next they thought about leaving by car but the highways were jammed with everyone else trying to leave. With no place close to go and the fear of all the hotels being full, Theresa and her family decided to wait it out.
They went to the store to get some supplies. Canned goods were available but all of the water had been sold out. When they arrived back at their house Theresa filled up the bathtub with water for future use.
She cleaned out the living room closet, filled it with food, water, blankets and pillows, then settled in for a long night.
Russell and Jacqueline Hazen were anxious. They both got up at 2 a.m. Saturday morning to watch the news.
"There is nothing you can do at that point except to sit and wait, watch and pray," Hazen said.
Before the storm hit, the Hazens had been in constant contact with their daughter and her family but had not heard from them since the storm started.
Then, around 9 a.m. Saturday morning the phone rang. Theresa was calling to tell them everything was all right. The storm had veered at the last moment and the Kajahs only experienced a tropical storm.
"When the phone call came we were relieved," Russell Hazen said.
Theresa told her parents they had been without power or running water for quite some time but the water was back on and crews were trying to restore power.
It had rained very hard and the wind blew strong but everyone was all right.
"The wind blew the pine cones and needles right off the trees in their yard," Russell Hazen said.
The Hazens felt both lucky and thankful the hurricane changed directions when it did.
"We prayed, not just for our children but for everyone down in the Gulf states," Jacqueline Hazen said.