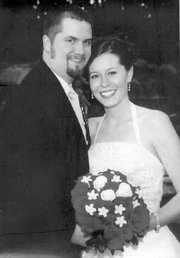 Lindsey Leigh Vining and Steven R. Clinton, both of Bellingham, were united in marriage on June 18, 2005 at the Immanuel Lutheran Church in Grandview.
The bride, the daughter of Marvin and Joanne Vining of Grandview, wore a princess-style wedding gown made of ivory satin. The halter-style bodice was encrusted with rhinestones and seed pearls in a gold leaf embroidery design. This intricate design was continued on the bottom of the gown and around the cathedral-length train.
The bride carried a hand-tied bouquet of red roses highlighted by three white roses and stephanotis. She was accompanied down the aisle by her maid of honor, Amber Leas of Bellingham, and two attendants, Delondra Williams of Los Angeles and Megan Nelson of Gig Harbor.
The groom, the son of Carl and Dolores Clinton of Portland, was joined at the altar by his best man, Jason Webster of Portland, and two ushers, Mike O'Donnell of Bellingham and Barry Chen of Corvallis.
During the ceremony, the groom's sister, Danielle Clinton, did a scripture reading, and the groom's cousins, Carrie and Jasmine Snead, served as candlelighters.
Following the wedding friends and family came together for a reception at Ashley's Catering in Grandview.
The bride is a graduate of Grandview High School and Western Washington University. She will be teaching in Bellingham.
The groom is a graduate of Douglas High School in Portland and Western Washington University. He is a employed as a quality control engineer at Yamoto Engine Specialists in Bellingham.
Following a honeymoon cruise in the Caribbean to Cozumel, Mexico, the couple is now at home in Blaine.
More like this story