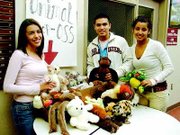 1-Column
Grandview forming task force committees
GRANDVIEW - In October, two city of Grandview task forces will meet to review concepts from a recent Grandview City Council retreat.
The Country Park Task Force will meet on Friday, Oct. 14, at noon in the Grandview City Hall Council Chambers. The task force will meet to provide input on how to better promote the Country Park Amphitheater.
The Adult Co-Ed Softball League Task Force meets Tuesday, Oct. 25, at noon in City Council chambers to research the possibility of forming an adult co-ed softball league.
For more information on either of the above task forces call 882-9219 or e-mail parksrec@grandview.wa.us
Locals graduate from WSU
PULLMAN - Washington State University announced the graduates from the Lower Valley area following the Summer 2005 semester:
Grandview: Araceli Chavez, B.A. in Social Sciences.
Outlook: Kimberly Christian Evans, B.S. in Psychology.
Sunnyside: Grant Alonzo Carpino, B.S. in Kinesiology; Antonio Gonzalez Estudillo, B.A. in Human Development; Manuel Alejandro Garcia, B.A. in Business Administration, Cum Laude; Monica Tonya Guerra, B.A. in Social Sciences; Sean Patrick Sleater, B.S. in Kinesiology; Julie Lee Urrutia, B.A. in Education, Summa Cum Laude.
West Nile Virus found in Lower Valley horse
West Nile virus has been confirmed in a 27-year-old horse in Prosser. The state Department of Agriculture confirmed the finding on Friday, Sept. 23.
This is the first reported case of West Nile infection in a horse where the infection was acquired in Washington state this year. The other announced equine cases involved infections that were contracted out of state.
55 Alive driving class scheduled
GRANDVIEW - A 55 Alive mature driving class is scheduled for Monday, Oct. 17, and Tuesday, Oct. 18, at the Grandview Senior Center at 401 W. Second Street.
To complete the refresher course in driving, participants must attend both sessions, which are 9 a.m. to 2 p.m.
To pre-register or for more information call 882-9230 or 882-1330.
More like this story