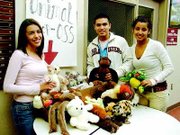 Sunnyside High School's leadership class takes turns on community projects. "They have one week to come up with a service idea, then a week to implement it," explained advisor Dave Martinez.
A current project underway by some of the students is to collect teddy bears. "The police and fire departments give the teddy bears to children to comfort them during an emergency," noted Sunnyside junior Tony Magaña.
"It gives them something cuddly if they're scared," added Andrea Arevalo, one of 26 students in the leadership class.
All of which is one central goal of the leadership class, offered to students by invitation only.
"They're moving so fast during the high school years with classes and sports," Martinez said. "So the community service projects are an opportunity for them to think about someone else."
Added leadership student Veronica Romero, "I think it's a great program."
The teddy bear drive concludes tomorrow. For more information or to contribute a bear, or two, stop by the school or call 837-2601.